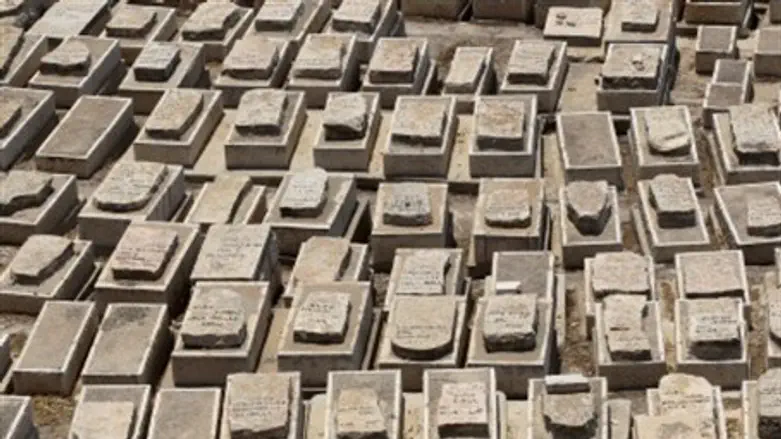 Mount of Olives cemetery (file)
Israel news photo: Flash 90
A group of Jews who visited the tomb of the Rabbi Chaim Ben Attar, known as the Ohr Hachaim, was attacked by dozens of Arabs, who attempted to "lynch" some of the Jewish visitors. Sunday was the commemoration of the death of the rabbi, in 1743. The annual remembrance for the Rabbi, known for his classical Biblical commentary, was held Saturday night and Sunday on the Mount of Olives.
Speaking to Arutz Sheva, one of the group's members, Moshe Malik, said that on Sunday morning, as hundreds of Jews made their way to the Mount of Olives, a traffic jam developed. "While we were stuck in traffic, dozens of Arabs appeared and began kicking our vehicles, screaming at us, and preventing us from leaving by blocking our cars."
As the attack progressed, more Arabs joined the crowd, until there were about 50, said Malik – without a police car in sight. "Police are very aware of what today is," Malik said. "On Saturday night there were tens of thousands of Jews at the site. The fact that police were not on patrol in this area is unbelievable."
As the attack continued, said Malik, "we feared for our lives. I was considering responding myself, but I was afraid police would begin harassing me, asking why I stayed to fight instead of running away." Malik added that when he got to the tomb, other visitors told him that they, too, had experienced similar situations.
When Malik and other worshippers asked police why they had done nothing to stop the attacks, police said that they were at fault. "They asked us what we were doing there in the first place," he said. That, Malik said, was the most shocking thing about the incident.