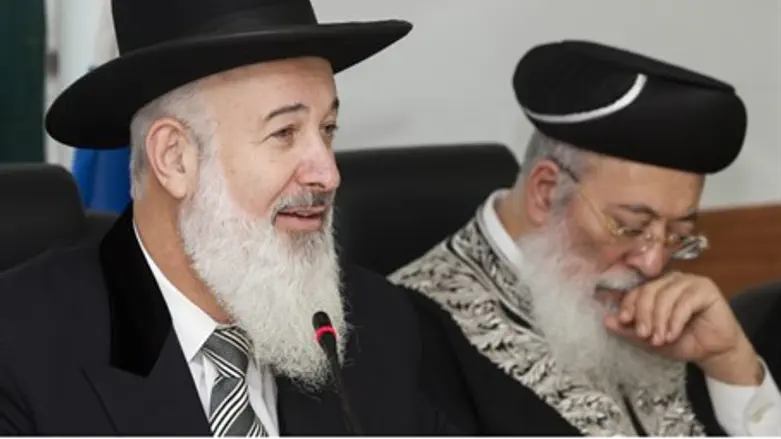 Rabbi Metzger (left) and Rabbi Amar
Israel news photo: Flash 90
Rabbi Yona Metzger, the Chief Ashkenazi Rabbi of Israel, has suspended himself from some of his duties in response to a corruption probe.
Rabbi Metzger temporarily withdrew from his position as a dayan – a judge in a court of Jewish law – on the Rabbinate's top court.
In addition, until the probe concludes Rabbi Metzger will not take part in meetings of the Chief Rabbinate Council, and will not be part of meetings for the selection of rabbinic court judges.
Rabbi Metzger reiterated his denial of the suspicions against him, and expressed hope that the police investigation would conclude quickly.
Rabbi Metzger was previously questioned by police regarding suspicions of corruption linked to hotel visits, and suspended himself from some duties in response to that probe, as well. The previous corruption probe ended with Rabbi Metzger being proved innocent after his office produced evidence that he had paid in full for the hotel stays.
Some of Rabbi Metzger's supporters have accused police of deliberately leaking details of the current case in an attempt to improve their own image.