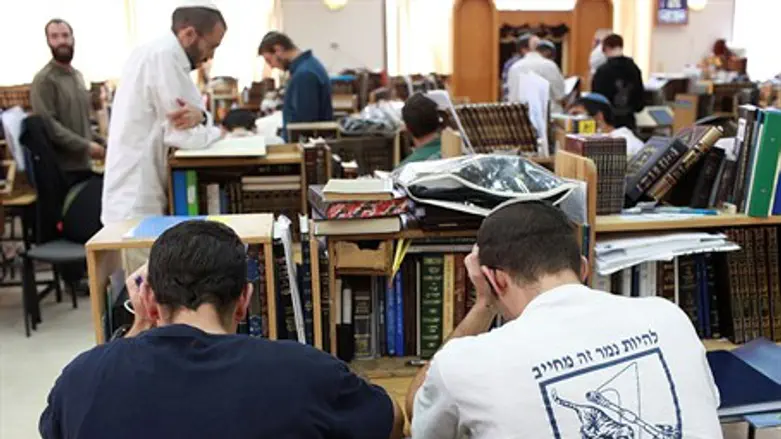 Hesder yeshiva students (illustration)
Flash 90
Rabbi Yehoshua Shapira, the head of the Ramat Gan yeshiva, spoke to Arutz Sheva about the expected cuts to state funding for the yeshiva system.
"We aren't calm," he admitted.
There should be no distinction made between funding cuts affecting religious-Zionist yeshivas and those affecting hareidi-religious yeshivas, he said. "The yeshivas are about Torah, which goes above and beyond the debate about Zionism," he explained.
"The separation made between them is not good or desirable," he continued. "We want to see the entire Torah world flourishing, not split in two with the Knesset members each worrying about their sector alone."
"The other side of the coin is that we are very worried about the budget itself," he said. Rabbi Shapira noted that he is not familiar with the details of the Finance Ministry's workings, but added, "From what I've heard, this cut is several times larger than the cuts to other areas, it's a cut of over 50 percent."
"That would mean the destruction of the Torah world, a very serious danger," he warned.
Minister of Economy and Trade Naftali Bennett and the other MKs who are fighting against the budget cuts are simply seeking to reduce the cut to the yeshiva budget to the level of the budget cuts elsewhere, he said.
He hinted at a dislike for that approach, saying, "There was room to cut other things and to increase the budget for the world of Torah."