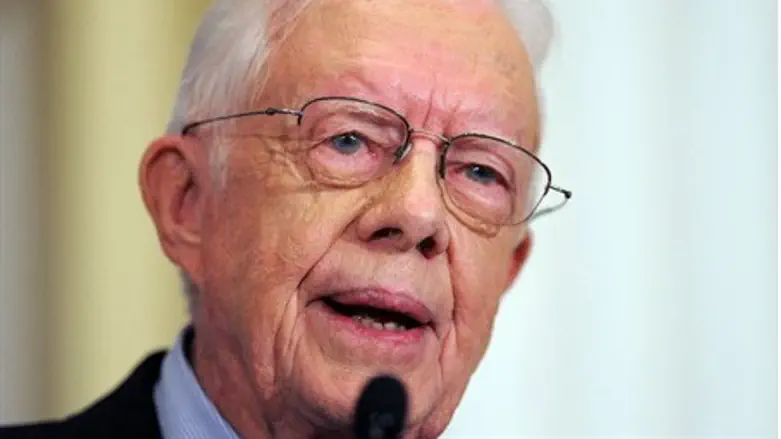 Former President Jimmy Carter
AFP/File
Former President Jimmy Carter is spearheading an effort to convince the United States to weaken its ban on dealing with terrorist groups, The Hill reported.
Carter and other foreign policy experts sent a petition to Secretary of State John Kerry on Thursday, asking him to exempt peace groups from policies that make it a crime to offer negotiation training and humanitarian law classes to terror groups.
"The Secretary of State can, and should, exempt peacebuilding activities from this counterproductive application of the law," says the petition, initiated by The Charity and Security Network, which, according to its website claims "to protect civil society's ability to carry out peacebuilding projects, humanitarian aid, and development work effectively and in a manner consistent with human rights principles and democratic values."
"Doing so would open the door for professional peacebuilders to fully engage in helping to end armed conflicts and suffering around the world, while making the U.S. safer," the petition continues.
The organization told The Hill that in the past, efforts to build bridges with the Taliban, Hamas and leftist guerillas in Colombia have all been thwarted.
A 2011 report by the UK-based Overseas Development Institute said anti-terrorism laws passed in the decade since the Sept. 11, 2001 attacks have created bureaucratic red tape and fostered an atmosphere of "fear" and "confusion" that has endangered the lives of aid workers.
"Rigid and over-zealous application of counter-terrorism laws to humanitarian action in conflict not only limits its reach in that context," the report concluded, "but undermines the independence and neutrality of humanitarian organisations in general, and could become an additional factor in the unravelling of the legitimacy and acceptance of humanitarian response in many of the world's worst humanitarian crises."
According to The Hill, the petition has been signed by more than two dozen groups and former officials, including Mercy Corps; Andrew Natsios, former administrator of the U.S. Agency for International Development under President George W. Bush; retired Ambassador Thomas Pickering; and Anne-Marie Slaughter, the Director of Policy Planning at the State Department from 2009-2011.