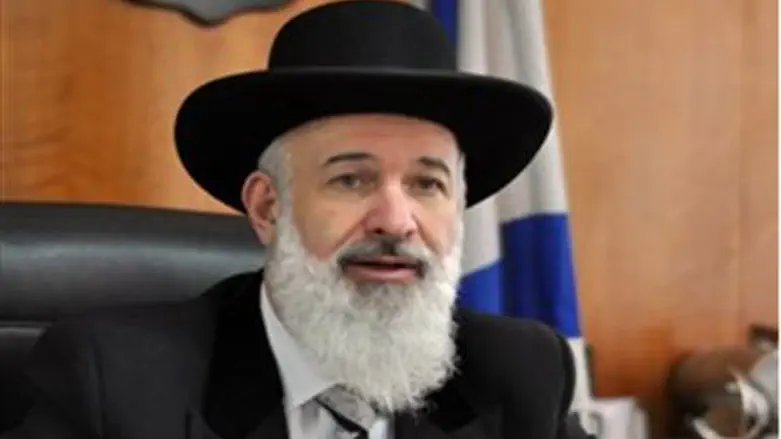 Rabbi Yona Metzger
Israel news photo: Flash 90
Supporters of Rabbi Yona Metzger expressed fury at the police on Friday after the anti-fraud unit detained Rabbi Metzger for questioning for ten hours.
According to his supporters, police did their best to smear Rabbi Metzger's good name.
Police invited camera crews and journalists to their officers before Rabbi Metzger was brought in for a second day of interrogation so that they could get good pictures of the rabbi on his way to questioning, one source told Arutz Sheva.
"The police's behavior has been disgusting," he accused. "There are sources in the police who leak every detail connected to the case in order to besmirch the rabbi's name."
He accused police of using Rabbi Metzger to try to regain respect in the public eye after having allowed a key witness in the Barnoar shooting case to escape.
The suspicions against Rabbi Metzger have not been made public, and no charges have been filed. However, a police source reported that the rabbi is suspected of "fraud, theft by a public official, breach of faith, accepting bribes, and money laundering."
Another of Rabbi Metzger's supporters, Rabbi Avi Zarki, said he doubts the leaks regarding the accusations will prove accurate. "There have already been a lot of these things that began with a bang, and ended with a whisper," he said.
Rabbi Metzger was previously questioned over rumors of corruption involving free stays in hotels. Police dropped the charges when Rabbi Metzger's office produced proof that he had indeed paid for the trips, but not before headlines about his "corruption" were spread in the media.
Rabbi Zarki defended Rabbi Metzger against the recent accusations in a post to his Facebook page. "Dear readers, I know him personally, I respect his work," he wrote. "He is first and foremost a man with a heart of gold… He should be presumed innocent."
He suggested four new rules for the Chief Rabbi of Israel in order to avoid even a suspicion of impropriety. "The Chief Rabbi should not travel abroad at all during his term, the Chief Rabbi should not function as the head of a non-governmental organization, kollel or yeshiva or any other organization,  the Chief Rabbi should not marry couples in exchange for 'donations' in any way, the Chief Rabbi shall not take part in dinner fundraisers and similar events," he wrote.
Rabbi Metzger's attorneys say he is cooperating with police, and is answering all of their questions. Rabbi Metzger claims innocence, they said.
The rabbi has been released to house arrest.