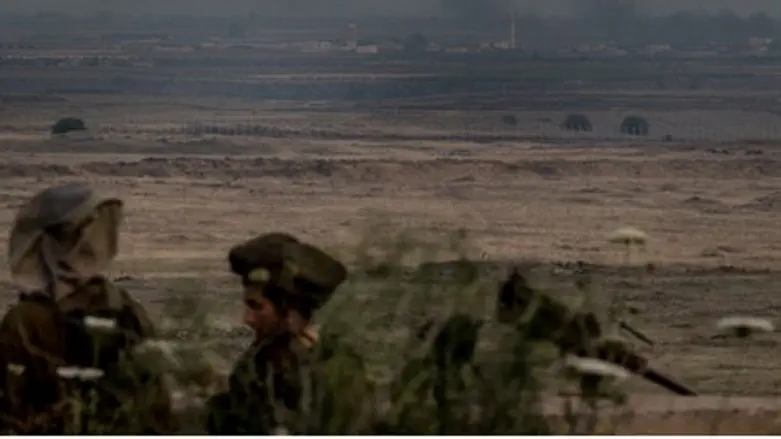 soldiers in Golan Heights
Flash 90
Israel evacuated a Syrian wounded in that country's civil war for treatment in Israel on Thursday evening, hours after the war once again spilled over into Israel.
Yael Shavit, a spokeswoman for the Ziv Hospital in the northern Galilee town of Tzfat told AFP that the IDF brought in a 16-year-old Syrian male who was suffering from gunshot wounds to the hip and thigh.
Shavit said another three Syrians were currently being treated at her hospital, noting that the Ziv Hospital has provided medical care for 20 wounded Syrians in the past few months, all suffering gunshot wounds.
Last week, a wounded Syrian was taken to the Ziv Hospital after already having been treated at a Syrian hospital.
The doctor who treated the individual in Syria pinned a note to the patient's clothing with details of the past medical operation. The note ended with the words, "Please do what is necessary and thank you in advance."
Two weeks ago, a wounded Syrian died on his way to an Israeli hospital after crossing the border to seek medical treatment in the Jewish state.
Meanwhile on Thursday, a mortar round from Syria exploded in the Golan Heights, AFP reported.
"There was no damage or injuries and the soldiers conducted a sweep in the area of the blast," an IDF spokeswoman said.
She added that the blast was "apparently linked to the internal situation in Syria" in an indication the army viewed it as stray fire and not intentionally directed at Israel.
It was the second time in less than 24 hours that a mortar shell from Syria exploded on the Israeli side of the border.
On Wednesday night, residents of one the communities near the border reported that they heard an exploding sound.
IDF forces that were called to the scene found the remains of the shell and neutralized it.
Last month, Israel destroyed an unspecified Syrian target, after fire from the Syrian side of the Golan Heights border damaged an IDF vehicle.
That incident occurred 24 hours after IDF soldiers carrying out routine security assignments along the border with Syria reported that shots were fired in their direction from the Syrian side of the border. No one was reported hurt in the incident.