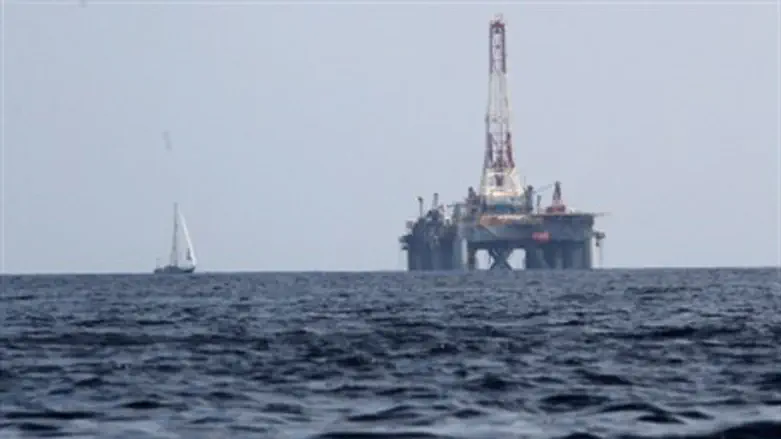 Gas rig in the Mediterranean
Israel news photo: Flash 90
Labor leader and opposition head Shelly Yechimovich in a letter Thursday urged Attorney General Yehuda Weinstein to stop the government from approving a recommendation that Israel export 40% of the country's proven natural gas reserves. Netanyahu, after consulting with Energy and Water Minister Silvan Shalom and Finance Minister Yair Lapid, announced Wednesday that he would bring the decision to the government for approval Sunday.
The 40% figure would see Israel exporting some 500 billion cubic meters of gas over the next 25 years, bringing some $60 billion into the state's coffers, while leaving Israel with enough gas for its own needs, Netanyahu said. The amount to be finally approved was significantly less than the amount recommended for export by the government-appointed Tzemach Commission last year, which said that the export total should be more than 50% of Israel's proven reserves. The figure was reduced in response to mass protests by groups opposed to exports, demanding that all the gas be used for Israel's needs.
Yechimovich, along with others in the Knesset, is opposed to gas exports altogether, saying that Israel cannot afford to export gas, and should use it for domestic purposes to bring the cost of living down.
In her letter, she told Weinstein that the gas was a natural resource belonging to the Israeli people, and it should be the Knesset that decides what to do with it, not the Prime Minister and his hand-picked ministers. "The Knesset is this country's democratically elected body, and it should be the body that decides what to do with the gas," she wrote to Weinstein. "This way the process of deciding how much gas to export will be transparent, and the public will have its say. This is a very weighty decision and cannot be made overnight, without the Knesset's input," she wrote.
Yechimovich said Wednesday that she would use any means at her disposal to stop the exports, including filing petitions with the High Court. The petition would require the government to bring the matter to the Knesset for its input. At least 60 MKs are said to be prepared to join in such a petition.