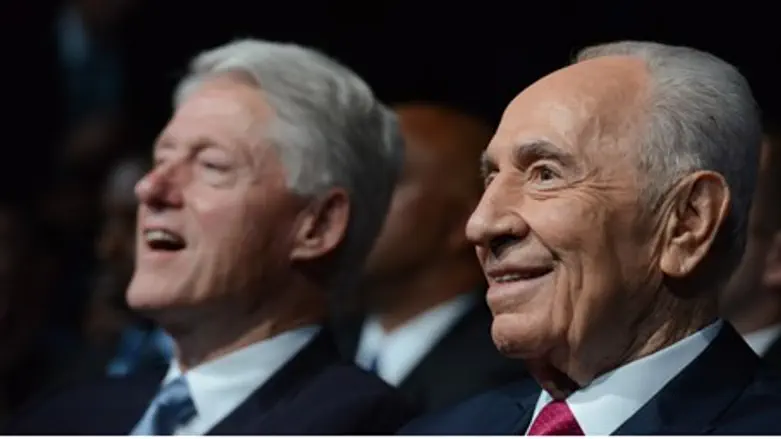 Bill Clinton, Shimon Peres
Flash 90
There was much criticism in Israel on Wednesday of President Shimon Peres's lavish 90th birthday celebration, which took place at the International Convention Center in Jerusalem the previous evening.
The extravaganza was attended by some 2,000 people, including Prime Minister Binyamin Netanyahu, former U.S. President Bill Clinton, former British Prime Minister Tony Blair, singer Barbra Streisand and actors Robert de Niro and Sharon Stone, to name a few. The event was broadcast live on Israel's three main television networks as well as on the radio.
Uri Orbach, the Minister for Senior Citizens (Bayit Yehudi) who did not take part in the event, said on Wednesday that he thought it was done in "bad taste."
Speaking in an interview on the Knesset Channel, Orbach jokingly suggested that the Peres's 91st birthday next year should be the main theme at the annual torch-lighting ceremony on Yom Ha'atzmaut (Independence Day).
Channel 10 News' political commentator Raviv Drucker, said that the lavish celebration was "reminiscent of North Korea and of Brezhnev."
"This event could have been shown for two minutes on the news, not for two live hours," said Drucker. "Peres has the abilities to bring all of us to a point in which we are sucking up to him. This was a blatant example of the huge gap between what is happening in social networks and what is happening on television."
He added, "Peres's people have the rare abilities to turn such big productions into something that is interesting, because everyone wants to see Barbra Streisand and Bill Clinton together on one stage, along with [Israeli singers] Eyal Golan and Shlomo Artzi. They are also able to manipulate all the mainstream media outlets so well that everyone takes part in this production which was orchestrated for an event that is fairly minor – Peres had a birthday."
While Peres has had some achievements in his life, such as the Dimona reactor and stabilizing the inflation as Finance Minister in 1985, Drucker said that he, above all, "represents a generation of politicians who thought that what matters is to survive and remain in politics, even if all your principles are being trampled in the process."
Earlier this week, Maariv journalist Amnon Lord attacked Peres's lavish birthday celebration.
"The greatest damage done by Shimon Peres is actually appropriated in his first love – peace," wrote Lord. "Peres managed to turn the preoccupation with peace into a cynical, profit-making, self-promoting matter.
"Today, there is no Israeli citizen who takes peace seriously," said Lord. "Our president has tainted peace for the foreseeable future. He turned his slogans into something that is perceived by the public as 'Shimon Peresian' subversion against the Israeli government."
Meanwhile, Israel's social networks were teeming with criticism over the nature and scope of what has been called Peres' "relentless cult of personality," according to the Yisrael Hayom daily.
Many on Facebook and Twitter said that given the economic situation, the president should have passed on the multimillion shekel event in favor of a more modest celebration, saying there was no need to "import" all the A-list guests that attended the event.
"In a time when the Israeli public is required to endure cutbacks, President Peres should have exercised some discretion and refrain from holding a pretentious festival, more suited for Louis XVI," Jerusalem Councilman attorney Yair Gabbay (Likud) said, according to Yisrael Hayom.