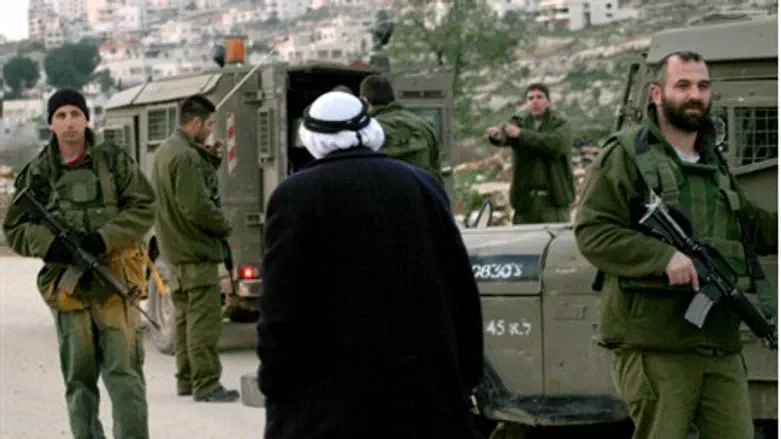 IDF checkpoint (illustrative)
Flash 90
The far-left watchdog group Machsom Watch has been exposing IDF activity and publicizing weak points in security, Israelis living in Samaria (Shomron) have accused.
The Samaria Residents' Council has filed a police complaint against the group.
Machsom Watch sends activists to watch IDF soldiers at checkpoints in Judea and Samaria. The group has been accused of harassing soldiers and of valuing convenience for Arab residents of Judea and Samaria over preventing terrorism. In one incident, Machsom Watch activists told soldiers to release an Arab teen who turned out to be an armed terrorist.
The group has a website on which it publishes daily reports from its volunteers. The reports often expose details such as the number of soldiers manning a checkpoint and the degree of security there.
For example, a report Tuesday from Kfar Hares noted, "The military presence is limited to nighttime hours only. There is no military presence on the road. Even the jeep that is normally parked opposite Karnei Shomron is not here."
Another recent report read, "The checkpoint is manned by soldiers who are not watching traffic. Everything is moving smoothly. Over the course of the day almost no military vehicles were seen on the road."
Yet another said, "Recently there have been a few reports of soldiers stopping vehicles at the entrance toward Shechem for inspection. This time we did not see soldiers, the cars went by without slowing in both directions."
Benny Katzover, head of the Samaria Residents' Council, called on police and prosecutors to take Machsom Watch's tracking activities seriously.
"This morning residents of Yitzhar went to jail for reporting IDF activity against outposts," he noted. "I call on the police and state prosecutors to apply the law equally and to arrest the Machsom Watch women for spying."
"It would be outrageous if a far-left organization were to report IDF troop movements aimed at fighting terrorism to the enemy and the state were to ignore it," he added.