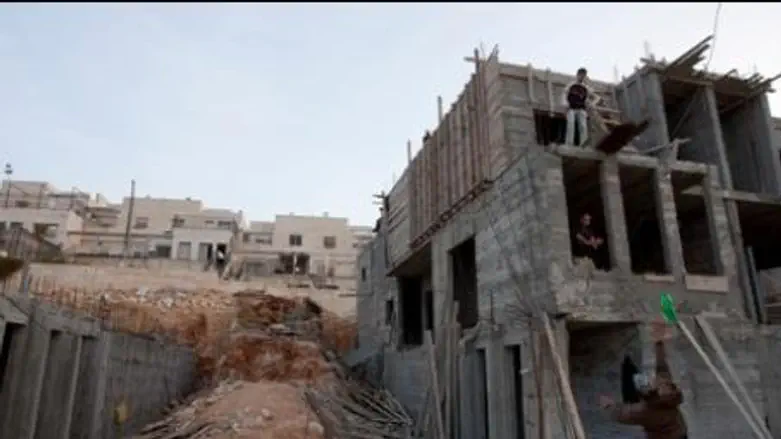 Construction project
Israel news photo: Flash 90
There is a new ban on Israeli construction east of the 1949 armistice line, including in eastern Jerusalem, Housing Minister Uri Ariel (Bayit Yehudi) confirmed Tuesday morning in an interview with Galei Tzahal (IDF Radio).
Prime Minister Binyamin Netanyahu ordered Ariel to freeze construction bids in Judea, Samaria and eastern Jerusalem following United States President Barack Obama's visit to Israel, according to the report.
The Obama administration has been critical of all new construction projects in Israeli towns and neighborhoods east of the line. An estimated 600,000 Israeli Jews live in those areas, where they make up an increasingly large percentage of the total population.
The U.S. and Europe have urged an Israeli construction freeze in order to avoid angering the Palestinian Authority, which claims all land east of the 1949 line as "Palestine."
PA Chairman Mahmoud Abbas has insisted on a full construction freeze as one of his preconditions for negotiations with Israel. A previous 10-month freeze failed to lure Abbas to the negotiating table; he agreed to talk shortly before the freeze was scheduled to end, but broke off talks immediately when it was not extended.
A senior political source recently told Arutz Sheva that Ariel is not allowed to issue public tenders for construction east of the armistice line without authorization from Netanyahu. "There are understandings between the two – if Ariel violates Netanyahu's orders, he'll leave the Housing Ministry," the source said.
The Bayit Yehudi (Jewish Home) party does not have the power to go against Netanyahu, the source said. "The freeze is a direct order from Netanyahu which may have been issued in order to prevent conflict with the United States, but which more importantly is aimed at bringing Bayit Yehudi to leave the government so that he can bring in the hareidi parties," he explained.
Ariel previously denied that there is a building freeze in Jerusalem. He has been vague on the Bayit Yehudi faction's potential response to a construction freeze.