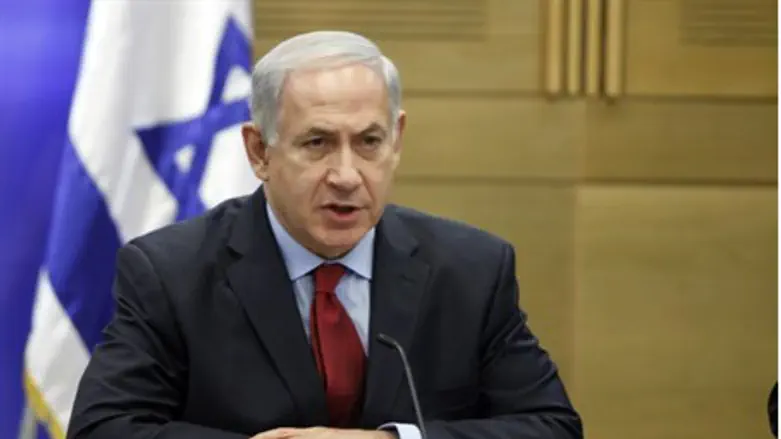 PM Binyamin Netanyahu
Flash 90
Economy Minister Naftali Bennett's comments about the idea of a Palestinian state being dead are reflective only of his own opinion, Prime Minister Binyamin Netanyahu said on Monday.
"Foreign policy is shaped by the prime minister and my view is clear," Netanyahu told the Reuters news agency. "I will seek a negotiated settlement where you'd have a demilitarized Palestinian state that recognizes the Jewish state."
Earlier on Monday, Bennett said that the idea of establishing a Palestinian state has reached a dead end and should be forsaken.
"Never in the history of Israel has so much energy been invested in something so pointless," Bennett said at a conference on the Jewish residents in Judea and Samaria and their depiction in the media.
"We need to go from a situation in which we try to convince people that it is a bad idea, to one in which this idea is behind us," he said about the idea of a Palestinian state. "Anyone who travels around Judea and Samaria knows that what they say in the hallways of Oslo and Annapolis is detached from reality."
Bennett's remarks were blasted by the PLO's chief negotiator, Saeb Erekat, who said they were part of a strategy to destroy any possibility for a future state.
He urged Western leaders to "hold Israel accountable for destroying the prospects of justice and peace."
For the past three years, Palestinian Authority Chairman Mahmoud Abbas has continued to impose preconditions on peace talks with the Jewish state, including a demand that Israel release terrorists who were jailed before 1993, freeze construction in Judea, Samaria and eastern Jerusalem and even present a map of the future Palestinian state before any negotiations take place.
He has repeatedly ignored calls by Netanyahu to come to the negotiating table, but has been facing pressure from U.S. Secretary of State John Kerry to resume peace talks.
During a visit to Poland last week, Netanyahu said that "it's time to stop negotiating about the negotiations."
"I want peace. To achieve peace, we must negotiate peace," he said. "We want to see this American effort succeed. Israel is ready for the resumption of direct negotiations for peace without preconditions. I think it is time to stop squabbling over preconditions. I think it's time to stop negotiating about the negotiations. I think we have to start peace talks immediately."