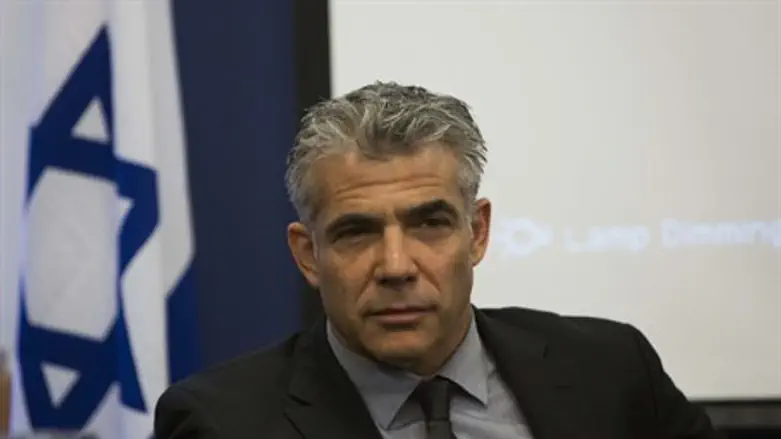 Finance Minister Yair Lapid
Flash 90
Israel and the Palestinian Authority decided to resume the economic cooperation which was suspended by the Jewish State last year, at a meeting of their finance ministers on Sunday, according to the AFP news agency.
The Israeli finance ministry, announcing the agreement as host of the Jerusalem talks, said newly appointed PA minister Shukri Bishara met Israel's Yair Lapid, who took office in March.
They discussed "the implementation of confidence-building measures", it said, and a timetable was laid down after the meeting to renew economic ties between Israel and the PA, according to AFP.
A spokesman for the PA's finance ministry, Rami Mahdawi, said Israel had agreed to hand over the monthly taxes it collects for the Palestinian Authority.
Between December 2012 and March 2013, Israel suspended the transfer of the taxes in reprisal for the PA being accorded the status of observer state at the United Nations, a move which the PA made unilaterally in direct violation of its obligations under the Oslo Accords.
The aim of renewed cooperation is to relaunch regular meetings on technical issues such as crossing points; fuel, power and water supplies; and payment for treatment of PA Arabs in Israeli hospitals, the PA said according to AFP.
Lapid said economic cooperation would benefit both sides.
"There are problems concerning daily life for Palestinians that must be coordinated and followed up with Israeli occupation authorities," the PA's chief negotiator, Saeb Erekat, said on Voice of Palestine radio.
The PA has complained of a financial crisis, the worse in its history, with its former Prime Minister Salam Fayyad having warned several times that the entity may fail and cease to exist.
The PA, which relies heavily on foreign donors, has been begging the world to step up financial aid in order to save it collapsing. At the same time it has continued to provide huge monthly salaries to terrorists serving time in Israeli prisons.
The PA leadership has also continuously blamed Israel for its financial crisis.