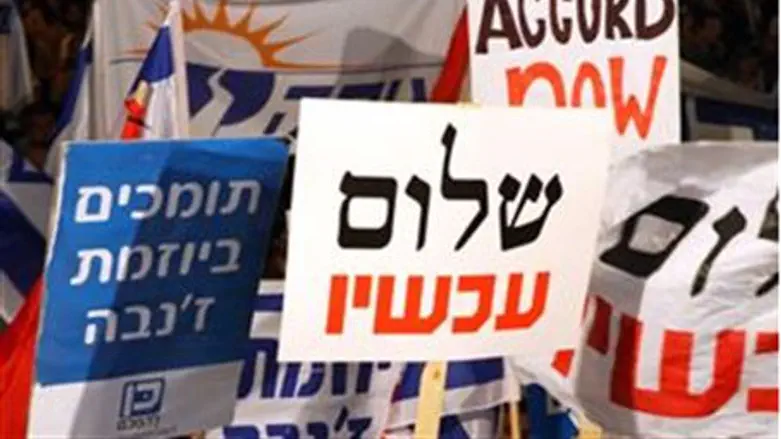 Peace Now posters at a rally
Israel news photo: Flash 90
Activists with the Samaria Residents' Council held a protest Saturday night in Jerusalem opposite a rally of a few dozen members of the far-left Peace Now organization.
While Peace Now called to ban construction in Jewish communities in Judea and Samaria, the nationalist protesters held banners saying, "Enough, leftists," and "Peace Now means a Hamas state."
The two sides began to shout at each other, as well. Peace Now activists told the pro-Samaria activists that Jerusalem will be split, with half becoming the capital of a new Arab state.
The pro-Samaria group replied that 400,000 Israelis live in Judea and Samaria, and Peace Now will not succeed in changing that fact.
"We can't let the demented extreme left shout alone, we need to tell them what the nation thinks of them," nationalist activists said, explaining why they had seen the protest as important.
Samaria Residents' Council Benny Katzover said, "We cannot let a loud, extremist minority take over public discourse on Israel's streets. Our activists in Israeli cities will show up anywhere that a negligible group tries to create the false impression that someone in Israel still supports dividing Jerusalem."
"We came to protest opposite a small group of vocal extreme-left activists who are acting on behalf of the country – but not our country, but the country that doesn't want any Jews within its borders, the country that wants Jerusalem as its capital," said activist Sagi Keizler.
"We came here to clarify the obvious to them – Jerusalem is the capital of Israel, and talk of dividing it encourages Arab terrorism," he concluded.