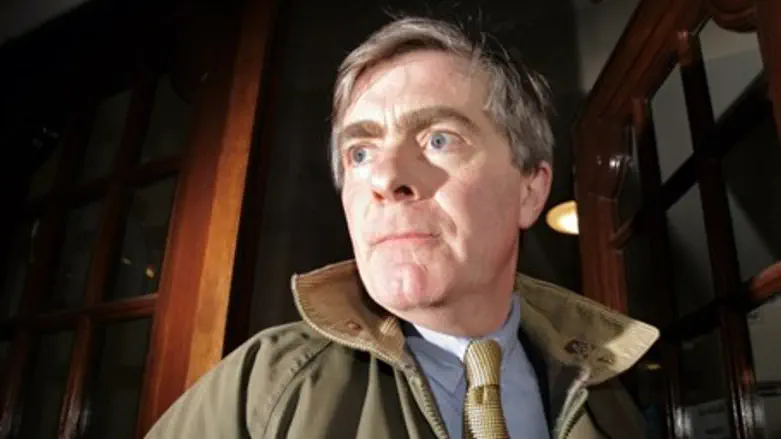 Patrick Mercer
Reuters
A British MP who was caught on camera branding an Israeli soldier a "bloody Jew" has apologized for his remark, the British-based Jewish News reports.
The BBC's "Panorama" program alleged that MP Patrick Mercer made the comments, which have been roundly condemned by community leaders and fellow politicians, to a reporter posing as a lobbyist as part of an undercover investigation the program conducted with the Daily Telegraph newspaper.
Describing an encounter with a soldier while trying to enter an "intelligence establishment" during a recent visit to the Jewish state, he was reported during last Thursday's program as saying, "An 18-year-old girl wearing a uniform, but with her sort of hair in plaits, and crazy jeweler and open-toed sandals, with a rifle up my nose. Who the f*** are you, you know? 'Well I'm a soldier.' Are you? You don't look like a soldier to me. You look like a bloody Jew. And I've no doubt that if I'd come up with the wrong answer, I'd have had my head blown off."
Mercer, who served as shadow homeland security minister under Michael Howard and Iain Duncan Smith, has told the Jewish News, "I'd like to apologies unreservedly for any offence I've caused to all my friends in the Jewish community."
Mercer said he had felt "extremely sorry" on watching himself recounting the encounter on the program, according to the Jewish News.
Mercer, who resigned the Conservative whip in the wake of the lobbying allegations, has previously attended events organized by both the Community Security Trust and Conservative Friends of Israel. He was also said by one Westminster source to have "always expressed an interest and admiration at Israel's prowess" on matters of security.
While he said leaders of Anglo-Jewry had yet to make contact with him over the matter, he told the Jewish News he'd had a "terrific connection with the community" over the years and had been contacted by "Jewish friends who have been extremely supportive" following last week's broadcast.
He said he will also be writing to Chief Rabbi Lord sacks to express his remorse. 
On Sunday, Knesset Speaker MK Yuli Edelstein wrote a letter of protest to his British counterpart, MP John Bercow, over Mercer's comments.
"I was shocked to hear about the crude anti-Semitic words used by a Member of Parliament, Patrick Mercer, regarding an event during his recent trip to Israel," wrote Edelstein. "This was a totally unacceptable comment, certainly as made by a public figure."
"This comment is merely one of a number of similarly unacceptable comments made by Members of the British Parliament regarding Jews and regarding Israel, comments that include sick, perverted and racist positions regarding the State of Israel," said Edelstein.
In May, Nazir Ahmed, a British peer who was due to face a hearing after reportedly blaming Jewish-owned media groups for his imprisonment, resigned from the Labour Party.
The peer, who was suspended by the party in March pending investigations, claims he does not remember making the comments and said he was "very disappointed" at his treatment.
He nevertheless later apologized for his "unacceptable" remarks.
In April, British politician Anna-Marie Crampton was suspended by her party after she said that Jews deliberately orchestrated the Holocaust.
Crampton allegedly wrote on her website, "Holocaust means a sacrifice by fire. Only the Zionists could sacrifice their own in the gas chambers."
"The Second World Wide War was engineered by the Zionist Jews and financed by the banksters to make the general public all over the world feel so guilty and outraged by the Holocaust that a treaty would be signed to create the State of Israel as we know it today."