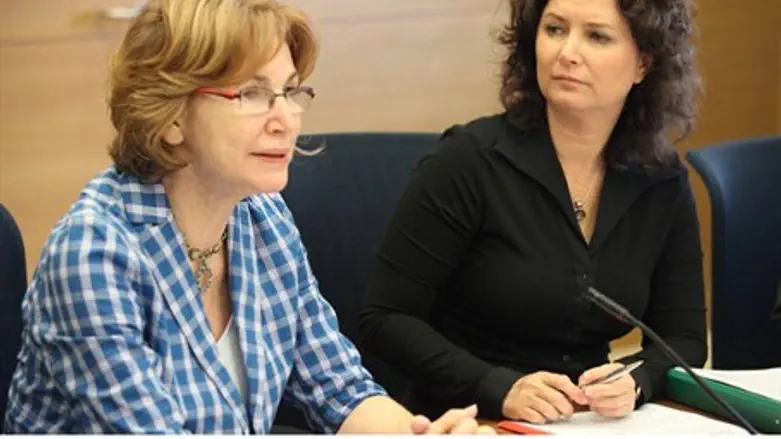 German (left) and Rosin
Health committee
The Knesset Committee on the Foreign Workers' Problem met for a special discussion Wednesday with Health Minister Yael German (Yesh Atid), regarding the health services provided to foreign workers.
Committee Chair Michal Rosin (Meretz) said, "In many of the cases, this weak population does not receive health services. As a result, they do not get health protection and endanger the health of the Israeli public."
Rosin noted that Israel's state health insurance does not extend to the foreign workers, who have no legal status, and no access to Kupat Holim HMOs.
Health Minister German said that Israel is "obligated, as a state, to treat people of all classes. The various health services that are given to the status-less immigrants receive a budget of 50-70 million shekels. I will look into the possibility of giving them additional health rights, as the State Health Insurance Law allows me to do."
"We cannot ignore people who are in medical distress and are staying here, even if in the future, a decision is made to return them to their state of origin," MK Dov Khenin (Hadash) said. "They must receive a health solution regardless of their civil status."
Dr. Miki Dor of the Health Ministry revealed that the foreign workers number between 150,000 and 250,000, who have no health insurance. Regarding the foreign workers' children, he said, "The state of Israel has signed an international treaty on caring for children and therefore provides the services they require. However, only about half of the illegal aliens' children are insured, probably because the service is not provided for free. There is an access problem and a fear of institutional care."
MK Rosin expressed her pleasure with the minister's statement and added: "As long as the state of Israel continues with its non-policy toward foreigners, it is obligated to take responsibility for their well being and health. This is not only the moral thing to do but also the right thing for society in general."
Israel, she added, "should consider providing regulated work for the asylum seekers and though that, enable the regulation of health payments." In addition, she said, schools should talk to parents and explain to them why they should have their children insured.