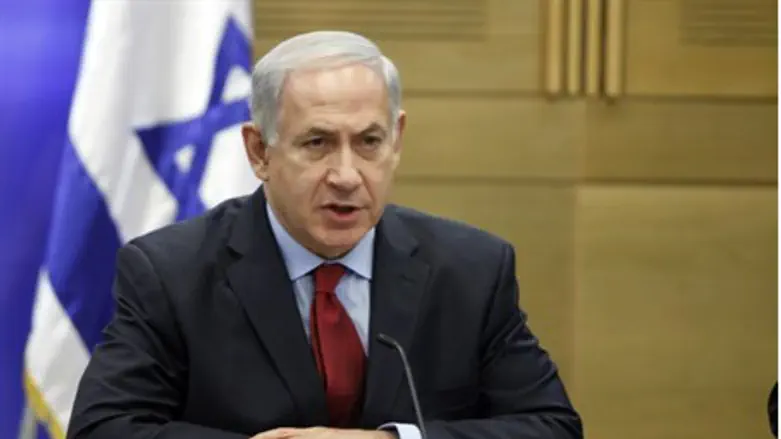 PM Binyamin Netanyahu
Flash 90
Prime Minister Binyamin Netanyahu has reportedly backed away from making a joint statement with the Polish government that would endorse a Palestinian Authority state.
According to the report broadcast Wednesday on Army Radio and Channel 10, Netanyahu disavowed the statement, released earlier in the day by the Prime Minister's Office. An aide explained to Army Radio the prime minister had not gone over the text, and added, "It was written by junior-level officers in the National Security Council."
The official communique was to express strong support for the "two state solution" and was to be announced during Netanyahu's trip to Poland together with five ministers, where he is meeting with Polish leaders. The prime minister is to inaugurate a memorial site at Block 27 in the Auschwitz-Birkenau State Museum during his visit.
The statement read in part: "There is an urgent need to promote the two-state solution to the Israeli-Palestinian conflict. The two governments agree on the urgent need to promote the two-state solution to the Israeli-Palestinian conflict through direct negotiations, without preconditions."
The prime minister reportedly took issue with a part of the communique that referred to unilateral steps by both sides serving as obstacles to a peace agreement.
"Unilateral steps by either party are counterproductive to achieving a sustainable lasting peace," reads the statement. "We welcome the U.S. government's efforts in this regard, particularly those of the U.S. Secretary of State [John Kerry]."
Both Netanyahu and his Polish counterpart, Donald Tusk, were to sign the document but no specific time was ever set for that action. Nevertheless, the Israeli prime minister's perceived aboutface has raised the spectre of a diplomatic faux pas in international circles.
Moreover, it has also opened the door to criticism from opposition within Israel's government. Meretz party chairwoman Zehava Gal-On immediately issued a statement attacking the prime minister, saying, "Netanyahu's disavowal of the content of the joint statement with the Polish prime minister only serves to expose the true face of the prime minister who continues to mislead the public and prove once again that he has no intention of making peace."