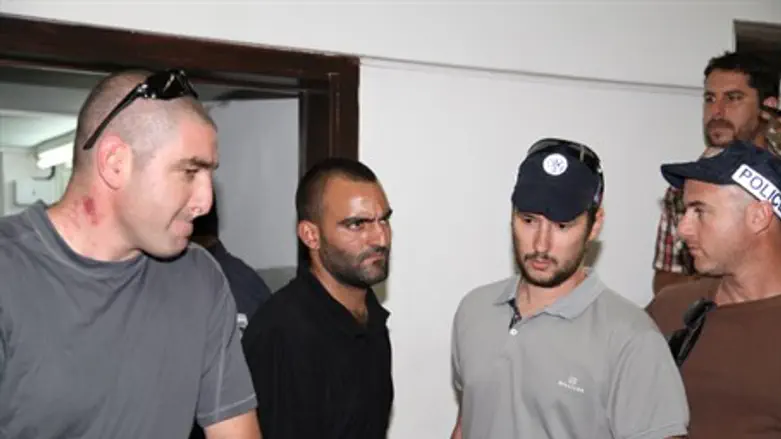 Felician (second from left) in court
Israel news photo: Flash 90
The main suspect in a mass shooting a youth club in Tel Aviv in 2009 has denied the allegations against him.
Hagai Felician, 23, says he is guilty of attempted extortion, but had nothing to do with the shooting at the Bar Noar club for homosexual youth, where he is alleged to have opened fire on a crowd, killing two and injuring at least 15 others. The attack allegedly came in revenge for a sexual assault on his young relative, perpetrated by a well-known activist.
Felician says the assault did indeed take place. But his response was not murder, he claims. He told police that he planned to threaten the perpetrator and to blackmail him, but not to attack him. The case against Felician relies on taped conversations and testimony from a state witness. On one tape, Felician is heard talking about Bar Noar and saying, "We did clean work." He claims the tapes were created as part of the plan to threaten the activist, and did not reflect real events.
The state witness has rejected Felician's version of events, and insists that he, Felician and two others plotted murder. The identity of the activist who was the intended target has not been made public. The activist has been arrested.
Former Interior Minister Eli Yishai (Shas) said Tuesday that an apology was in order now that the identity of the Bar Noar shooter has been revealed. Yishai, currently a Knesset Member, said in a statement to media, "Remember four years ago, once the news of the murder hit and before the investigation began, they waved signs against hareidi-religious Jews, blaming them in one way or another."
Yishai called it "a stain on an entire community, through no fault of their own. This requires public reflection." Leftist pundits theorized that a hareidi-religious person may have shot up the Bar Noar gathering out of religious conviction. The identities of the suspected killer and his accomplices were released Tuesday when a gag order was lifted on the lengthy police investigation.