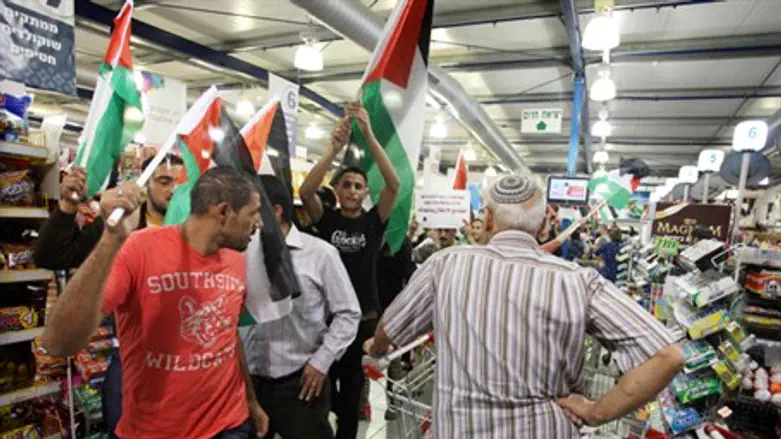 anti-Israel boycotters
Flash 90
Leaders of the Boycott, Divestment and Sanctions (BDS) movement, which seeks to delegitimize and demonize Israel worldwide, said they oppose any peace talks, even if they include a long-demanded freeze of Israeli construction.
"We have no faith... in the so-called negotiations," said Omar Barghouti, head of the BDS movement, which lobbies worldwide for the economic, cultural and academic boycott of Israel.
Speaking to the AFP news agency on the sidelines of the fourth annual BDS conference at Bethlehem University at the weekend, Barghouti said the talks were "absolutely useless, just another smokescreen to allow Israel to continue its colonization its building of settlements."
Barghouti said, however that even if Israel does cease construction, negotiations would still be unacceptable.
The only way to ensure the "Palestinians" secured all their rights is through the non-violent "resistance" of a full boycott of Israel, he maintained.
Barghouti said that for there to be peace, the Israelis must guarantee the right of return for "Palestinian refugees" everywhere and equal rights for Arab Israelis, as well as a complete end to the "occupation of Palestinian territories."
The Arab world defines several million descendants of Arabs who fled pre-state Israel as "Palestinian refugees," and defines all land east of the 1949 armistice line - including the Old City of Jerusalem and other historically Jewish areas - as "occupied Palestinian land." The area in question is home to more than 560,000 Israelis.
At the conference, local BDS leaders called on the PA leadership not to "play the role of mediator between us and Israel," demanding instead that they focus their energies on sanctioning the Jewish state.
One of the BDS movement's more celebrated supporters is South African anti-apartheid icon Desmond Tutu, who addressed delegates by video conference.
"This is a universe where right will ultimately prevail, and you are on the side of right," he said, according to AFP.
Pink Floyd bassist Roger Waters also sent a message, urging fellow musicians to refuse to perform in Israel as part of the cultural boycott.
Israel, "uses performances by foreign artists to create a facade of normalcy and acceptability," he told them in a pre-recorded message.
Waters also praised a recent decision by renowned British physicist Stephen Hawking to pull out of a Jerusalem conference to be hosted next week by Israeli President Shimon Peres as part of the academic boycott -- a move listed by BDS as one of its notable achievements of the year.
In a separate but related development, the European Union has also called for clear and unambiguous labeling of products being exported from Jewish
communities in Judea and Samaria.
But the move, which was to have been approved by EU foreign ministers in May, has been delayed until the end of this month, reportedly at the request
of Washington in a move denounced by Palestinian legislator Mustafa Barghouti as "disappointing."
Barghouti continued to proclaim his hatred for the Jewish state, asserting, "The only alternative is violence."