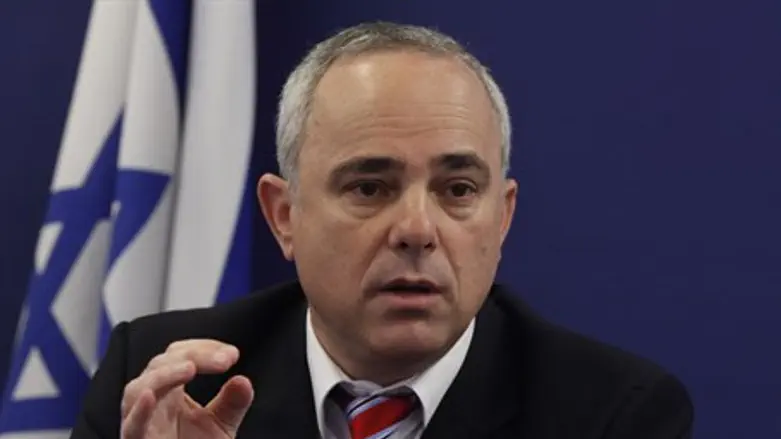 Minister Yuval Steinitz
Flash 90
Iran is getting closer to reaching the "red line" of nuclear capability set out by Prime Minister Binyamin Netanyahu, warned Minister of Strategic Affairs, Intelligence and International Relations Yuval Steinitz on Monday.
Speaking to reporters in Jerusalem, Steinitz said Iran is working round the clock to enlarge its nuclear infrastructure with the eventual aim of developing an industry capable of building up to 30 bombs a year.
But he said it was biding its time and building uranium-enrichment facilities before making the final push for weapons-grade material.
"The Iranians are getting very close now to the red line... They have close to 200 kilos -- 190 kilos (418 pounds) -- of 20 percent enriched uranium," Steinitz said, according to the AFP news agency.
"Once they have 250 kilos (551 pounds), this is enough to make the final rush to 90 percent," the level of enrichment required for a nuclear warhead, he said in a presentation to the Foreign Press Association.
"It is a matter of weeks or maybe two months to jump from 20 percent to 90 percent with so many centrifuges," said Steinitz.
"What they are doing now -- instead of crossing the red line, they are widening and enlarging their capacity by putting in more centrifuges, faster centrifuges."
Iran's aim, charged Steinitz, was to build a nuclear arsenal, not just a single bomb.
"Many people are saying it's a question of the Iranian bomb - whether they will have it or not. No. We are speaking about an Iranian arsenal," he said.
Tehran's big fear was that a Western military strike could wipe out their nuclear facilities "within a few hours," he said.
"The Iranians feel very vulnerable, especially from American air operations. This is their main concern -- that if the West, if NATO, if America decide to attack them, a few hours of accurate air raids might destroy their nuclear facilities," added Steinitz, according to AFP.
Reports have suggested that the Pentagon has redesigned its biggest "bunker buster" bomb with more advanced features intended to enable it to destroy Iran's most heavily fortified and defended nuclear site.
Israel and many Western governments suspect Iran is using its civilian nuclear program as cover for developing a weapons capability, a charge denied by Tehran.
Steinitz also ruled out any change in policy that might result from the Iranian presidential elections which are to take place on Friday, saying the result was already known.
"Nothing is going to change. There will be, unfortunately, no significant changes because of these so-called elections because (supreme leader Ayatollah Ali) Khamenei has already won," he said.
"He is the leader and he makes the decisions and he already made his decision to spend many billions of dollars on building this nuclear industry with only one aim," added Steinitz.
"The decision was already made to get nuclear weapons -- you don't spent so much money and you don't suffer $70 billion of losses (due to international sanctions) in one year only to show that you can spin some centrifuges," he concluded.
Iran has held several rounds of talks with six major powers -- the U.S., China, Russia, Britain, France and Germany, known collectively as the P5+1, about its nuclear program. Each round has ended without results.
The P5+1 is particularly concerned about Iran's enrichment to levels of up to 20 percent and wants it to shut the Fordow fortified bunker where the sensitive activity is conducted. The group also wants Iran to ship out its existing stockpile of 20-percent enriched material.
In return, Tehran has reportedly been offered the right to deal in some precious metals and perform small financial transactions now prohibited by international sanctions.