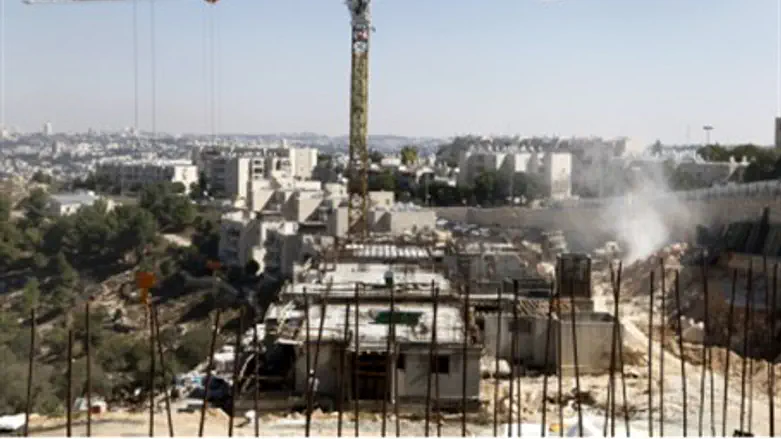 Gilo construction (archive)
Israel news photo: Flash 90
Prime Minister Binyamin Netanyahu is warning his Likud ministers and Knesset members to support his policies and avoid rocking the boat, lest "the ship sinks."
Netanyahu told Likud Knesset members at a faction meeting on Monday that construction in Jewish towns in Judea and Samaria has no effect on reaching a peace agreement with the Palestinian Authority. He made the statement in response to a question from Deputy Transportation Minister Tzipi Hotovely, who asked whether there had been a request from the United States to freeze Jewish construction in Judea and Samaria, as had happened in 2010. Netanyahu replied there had not been.
But the prime minister emphasized the importance of remaining "vigilant, lest the coalition fall apart. Once you start drilling holes, the ship sinks," he warned Likud party members.
There have been accusations both from within the party -- particularly from Jewish Leadership faction head Moshe Feiglin -- and from others as well, that Netanyahu has instituted an unofficial freeze on Jewish construction in Jerusalem, in areas restored to the capital in the 1967 Six Day War, as well as in Judea and Samaria (a regional area also known by the Hebrew acronym "Yesha").
Housing starts in Judea and Samaria have jumped from 313 to 865 in the period between January to March from 2012 to this year, according to figures released by the Central Bureau of Statistics.
But at the same time, there indeed were no new construction projects in the northern and eastern parts of the capital, according to a report broadcast Monday on Army Radio.
Unnamed government sources in several offices, including at least one in the Housing Ministry, all accused the prime minister of blocking the progress of building and other construction plans. They said "people in the Prime Minister's Office" had made sure new "eastern Jerusalem" projects were stopped at the start.