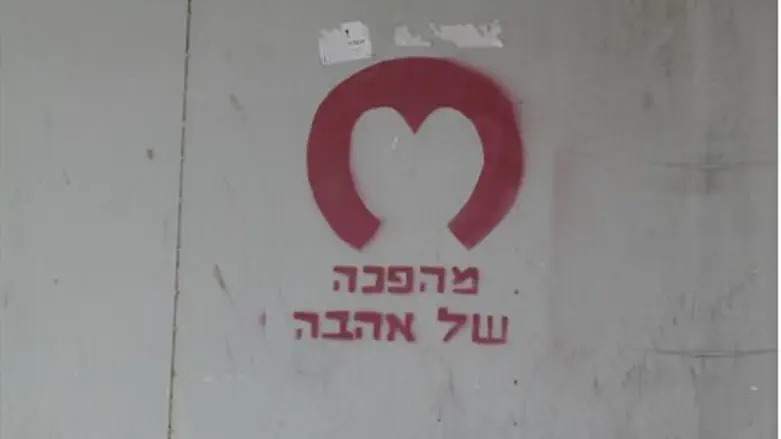 Ahavat Hinam Day
Akiva Gersh
This Friday, June 7, is "Unconditional Love" ("Ahavat Hinam") Day."
The idea is the brainchild of Israeli educator Akiva Gersh. The day is scheduled to precede the first of the month of Tammuz and was prompted by what he terms the "ugly" incident during this past month's Women of the Wall gathering at the Western Wall in the Old City of Jerusalem.
Gersh stated, "let's not wait until Tisha B'Av to think about how we can increase Jewish unity. The idea is that, on Friday June 7th, two days before the first day of the new month, which is on Sunday, each of us will perform a 'random' act of kindness for at least one other Jew, ideally a Jew who comes from a different religious/political perspective than you."
Gersh spoke to Arutz Sheva/ Israel National Radio on the Reality Bytes podcast with show host Josh Hasten about the project. To listen to the full interview in podcast format click here.
Gersh said he defines ahavat hinam as "unconditional love," explaining, "it means that I love you no matter what. In context of the Jewish world, it means that I love you simply because you are a Jew and not dependent on anything else. In a greater sense, it is love simply because you are a fellow human being."
Gersh moved to Israel with his wife and children nine years ago and currently lives in Pardes Hana. He is an educator at the Alexander Muss High School in Israel. He and his wife founded the Tiyul B'Aretz "Israel Study Abroad...on the Road" course in which post high school students travel the country. He said the initial inspiration for Ahavat Hinam Day came this past Yom Hazikaron, Israeli Memorial Day, when he attended a memorial service.
He feels that since he never had the opportunity to serve in the Israel Defense Force, this is his way of serving the country. "I feel like I am in blessed to live here and I feel like this is the best place in the world and my love for this place and this land only grows."
Gersh stated that his appreciation for Israel also brings about a sense of civic responsibility. "Like all societies in the world, we have our issues and problems. As someone who cares, I have been frustrated by certain events that have taken place that highlight the divisions between people, be they economic, or social.
The real impetus for Ahavat Hinam Day resulted from a negative experience a month ago during the Women of the Wall incident at the Western Wall in Jerusalem.
"I am not here to express my personal opinions on that story, but last Rosh Hodesh, it got ugly. We can combat that by bringing more light into the world through simple acts of kindness and love between one Jew and another, to show that despite our differences, and also with our differences, we are one nation and one soul," Gersh explained. "Yom Ahavat Hinam is my little attempt to do something good in the world."
So how will people know if Yom Avahat Hinam actually worked? Gersh suggests posting one's experiences on the Ahavat Hinam Day Facebook page. "We are not asking people to boast, but just to see where it was taken. It's purposely not a rally or protest or a gathering. The fact that you did this interview is part of it," Gersh told Arutz Sheva radio.
For the full interview, including the watermelon story, download the mp3 by clicking here.
To contact Akiva Gersh, click here.
Josh Hasten hosts the Reality Bytes call-in talk show live every Thursday from 10:00 AM - 12:00 noon Israel time on Arutz Sheva - Israel national Radio's live internet stream. For free podcast archives click here.