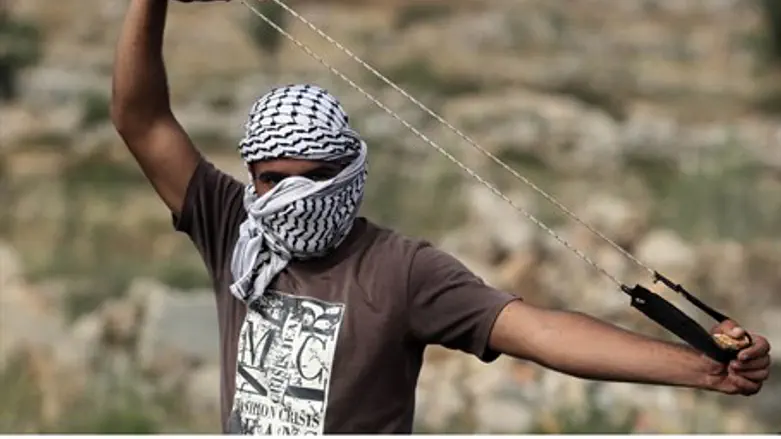 Rock-throwing terrorist
Flash 90
May 2013 saw a decline in the number of terror attacks carried out against Israelis by Palestinian Authority Arab terrorists, according to the monthly report by the Israel Security Agency (Shin Bet) which was released Thursday.
The report noted that in May there were 124 terror attacks, as opposed to 139 in April. The main decline is noted in the number of attacks originating in Gaza – three in May, as opposed to 12 in April.
There was also a decline in the number of attacks in Judea and Samaria - 83 as opposed to 90 in April, the ISA found. Jerusalem, however, saw a slight increase in the number of attacks: 38 as opposed to 36 in April.
Four Israelis sustained injuries in terror attacks in the past month, noted the report, all of whom were security personnel on their way to Hevron in a jeep on May 15. They were attacked with a firebomb which caused the jeep to catch fire and roll over.
In the Jerusalem and the Judea and Samaria area, most of the attacks executed in May - 102 out of the 121 attacks in both areas combined - were in the form of firebombs, the report noted.
In Gaza, two of the three attacks were rocket attacks and the third one was a small arms shooting.
Throughout the month of May, noted the Shin Bet, two rockets were launched towards Israel (in two attacks), as opposed to 17 rockets (two from Sinai towards Eilat) and five mortar shells (in 13 attacks) in April.
In May, Israel restored the fishing zone off the coast of Gaza to six nautical miles, after reducing it to three in March due to rocket attacks.
The restriction was imposed after terrorists fired two rockets at southern Israel on March 21, one of which caused damage to the yard of a house in the town of Sderot, during a three-day visit by President Barack Obama.
Arutz Sheva analyst Kobi Finkler has noted that despite occasional rocket attacks recently, signs point to Hamas seeking quiet in Gaza for the foreseeable future.
Evidence of this, said Finkler, can be seen in the quiet that followed Israel's assassination of a senior Gaza terrorist. The IAF killed terrorist weapons expert Haitham Ziyad al-Mishal in a rocket strike at the end of April.
While previous such operations have been met with Hamas threats and instant rocket attacks, Mishal's death passed in relative silence.