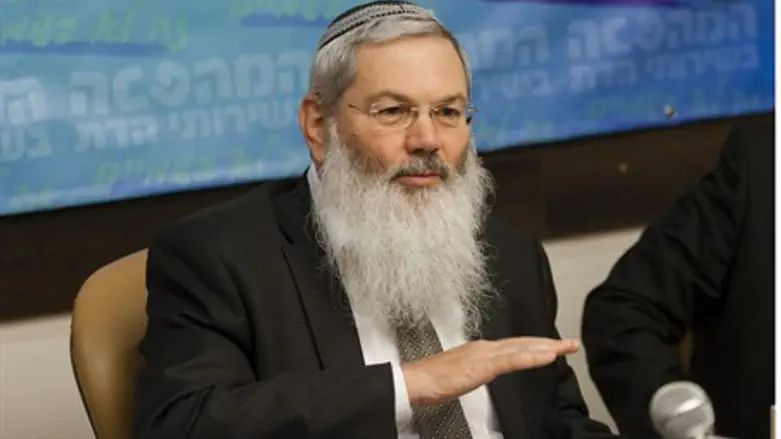 Deputy Minister Rabbi Eli Ben-Dahan
Flash 90
Hareidi-religious yeshiva students will not go to jail, even if they refuse to enlist in the IDF, Deputy Religious Affairs Minister Rabbi Eli Ben-Dahan said on Monday.
Speaking to Arutz Sheva, Rabbi Ben-Dahan referred to the Perry Committee for Equal Burden of Service's decision to impose criminal sanctions on hareidi-religious men who do not enlist in the army starting in 2017.
Rabbi Ben-Dahan's party, Bayit Yehudi, opposed the idea but it ended up passing in the committee after Prime Minister Binyamin Netanyahu ordered Defense Minister Moshe Yaalon, who also opposed the move, to vote for the measure in order to prevent a coalition crisis.
Bayit Yehudi has indicated that the final draft law which will be brought for a vote in the Knesset will need to be changed and the criminal sections be removed. Rabbi Ben-Dahan said he is convinced the law will indeed be changed, despite threats by Yesh Atid chairman Yair Lapid to bolt from the coalition unless criminal sanctions are imposed on hareidi draft evaders.
"There are many people with many desires," he said, adding that despite Lapid's threats "there will not be a situation where people are placed in jail because they studied Torah. It makes no sense and is not possible."
Rabbi Ben-Dahan noted that even though the Perry Committee set the principles for the legislation, the legislation itself is determined by the MKs in the Knesset, meaning that there will be "ample room for many changes."
Despite Lapid's threats, said the Deputy Minister, a law without criminal sanctions on hareidim could still pass, since the opposition also votes on laws in the Knesset.
He repeated that he firmly believes that an atmosphere of coercion and threats of sanctions will only cause the hareidim not to enlist and not work. "It only turns them away and causes harm," said Rabbi Ben-Dahan.
Defense Minister Moshe Yaalon on Sunday once again strongly expressed his opposition to jailing hareidi-religious men who will refuse to serve in the IDF.
Speaking to Likud activists in the Sharon region, the Defense Minister said, "Last year, 1,500 hareidim joined the IDF without us having declared war on them and without anyone going to jail.
"I do not want to live in a Jewish state in which I take yeshiva students from Torah study to jail," he added.
Deputy Defense Minister Danny Danon said last week that the Likud party will insist on changes to the proposed "equal burden of service" laws suggested by the Perry Committee.
"I think that we'll see changes during the legislative process, from the government and from the Knesset – and the Prime Minister has made that clear," he said.
"The Likud will not be a party to incitement against the hareidi-religious public," Danon declared.