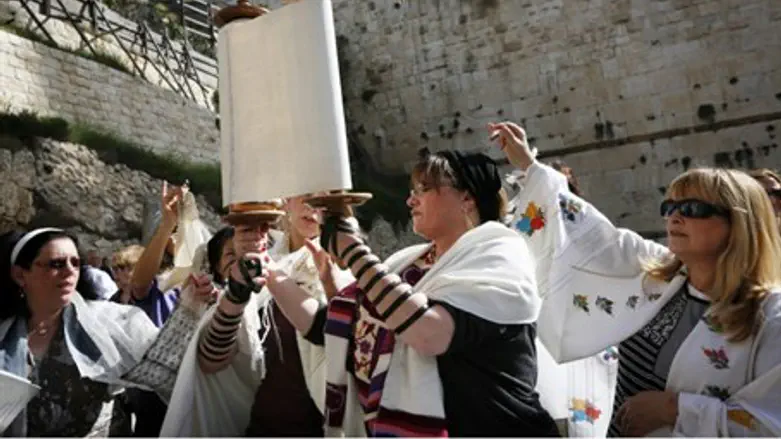 Women of the Wall (File)
Flash90
After threatening letters were sent Monday to Israel's Chief Rabbis, demanding that females be allowed to pray at the Western Wall as they see fit, the Rabbinate's Central Council said that there had been no change in its position, and that women were not permitted to hold public prayers at the Western Wall  in which their customs resemble those traditionally reserved for men.
Chief Rabbis Shlomo Amar and Yonah Metzger both participated in Monday's Rabbinate Council meeting, which discussed the Rabbinate's position on demands that a women's group, specifically the group that calls itself "Women of the Wall", be allowed to hold a prayer session in the Kotel Plaza this coming Sunday, the first day of the Hebrew month of Tammuz. The group generally attempts to hold such prayer sessions on the first day of the Hebrew month, called Rosh Chodesh in Hebrew, but does not frequent the Wall at other times.
It is up to the Chief Rabbinate to decide how to handle the issue of women's prayer groups, the Council said in its decision Monday. The issue is still under discussion, and until a solution is worked out, the Council said, women should not hold organized prayer groups in non-traditional fashion.
Many religious Jews, both male and female, oppose prayer groups held by the women's groups, who insist on the equal right to pray out loud next to the Western Wall with tallit and tefillin as men do, as well as reading from the Torah. The Council said that the Kotel must be treated in the same manner as an Orthodox synagogue, where women are not allowed to read from the Torah and halakha precludes their reciting the blessings for the reading.  Women wearing tallit and tefillin, even if halakhically permissible, are not seen in traditional Orthodox synagogues.
The Council added that it "strongly opposes any provocation or violent behavior by anyone. We call on all sides to act responsibly and patiently until a decision based on all considerations can be made."
In recent months, hareidi groups opposed to the prayers have stepped up their activities against the groups, while women's groups have rejected compromise solutions that would ensure they could hold their prayer group sessions without interference. Several people have been arrested for violent behavior and incitement during the prayers. Hundreds of hareidi young women came to the Wall on the first day of the previous month to pray quietly, vastly outnumbering the Women of the Wall.