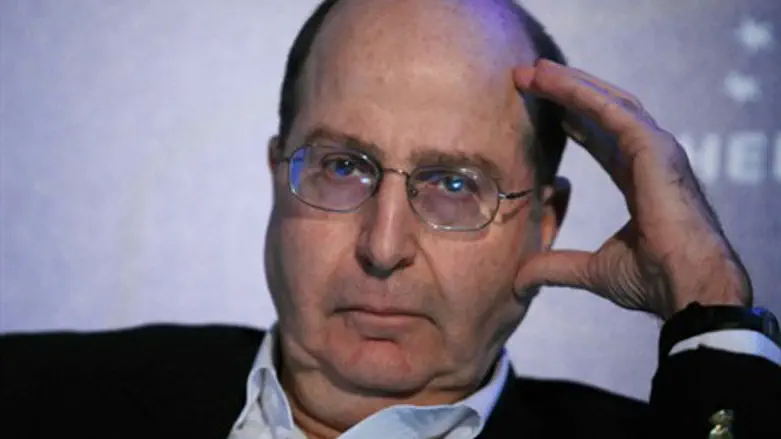 Defense Minister Moshe Yaalon
Israel news photo: Flash 90
Defense Minister Moshe Yaalon on Sunday once again strongly expressed his opposition to jailing hareidi-religious men who will refuse to serve in the IDF.
Last week, the Perry Committee for Equal Burden of Service voted to impose criminal sanctions on hareidi-religious men who do not enlist in the army.
Yaalon, who was a member of the committee, voted against the measure, reportedly ignoring a direct order from Prime Minister Binyamin Netanyahu to vote for the measure in order to prevent a coalition crisis.
Speaking to Likud activists in the Sharon region, the Defense Minister said, "Last year, 1,500 hareidim joined the IDF without us having declared war on then and without going to jail.
"Whoever thinks that by attacking and threatening them, as [former MK Yohanan] Plesner did at the time and as has almost happened with Yesh Atid – sending them straight to jail - I do not want to live in a Jewish state in which I take yeshiva students from Torah study to jail," he added.
Asked by the activists how much Yesh Atid chairman Yair Lapid, who last week threatened to bolt from the coalition unless his demands on hareidi army recruitment were met, will control the government, Yaalon replied, "I do not bend over, as you can see."
He added, "Those who can think that life or the State can be run on Facebook – should know that it doesn't work."
Deputy Defense Minister Danny Danon said last week that the Likud party will insist on changes to the proposed "equal burden of service" laws suggested by the Perry Committee.
"I think that we'll see changes during the legislative process, from the government and from the Knesset – and the Prime Minister has made that clear," he said.
"The Likud will not be a party to incitement against the hareidi-religious public," Danon declared.