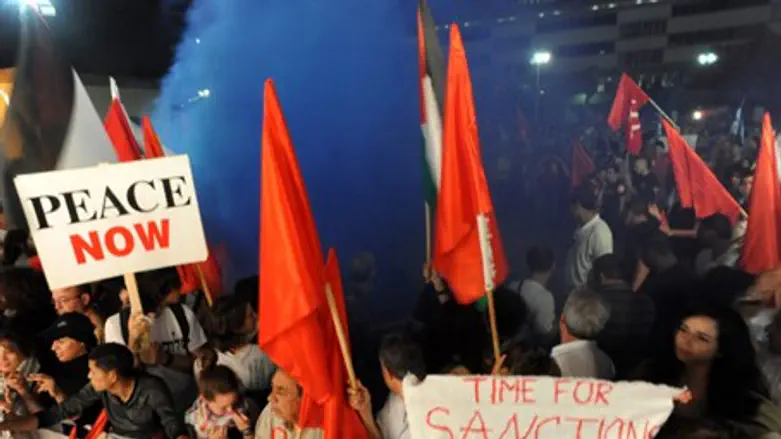 Anti-"occupation" rally (Illustrative)
Israel news photo: Flash 90
The IDF has decided to release a soldier who refused orders to serve in Judea and Samaria (Shomron) due to his belief that Israel should withdraw from those regions.
The soldier, Natan Blanck of Haifa, was sent to military prison several times but continued to refuse to serve. Blanck has been declared unfit for service and will be released from the IDF completely.
The IDF's decision sets a dangerous precedent, warned Ron Kerman, whose daughter Tal was murdered in a terrorist attack in Haifa. "We can't have everyone making his own rules," he told Arutz Sheva. "We have to learn to follow the rules in our democracy, not each person doing what he sees fit."
Kerman rejected comparisons between Blanck's refusal to obey orders and the refusal by some soldiers to expel Israelis from their homes in Gaza and northern Samaria during the 2005 "Disengagement."
"Then, there was a rift in society" over the Disengagement, he said. "But here – we've been in Judea and Samaria for more than 40 years. If the settlements are 'occupied territory,' then Haifa is a settlement and occupied territory, too."
Natan Blanck "is a law-breaker who is inciting against the establishment," Kerman accused. He called on the IDF to punish Blanck. "Now, of all times, with the talk about hareidi enlistment, this phenomenon of refusing to serve has to stop," he argued. "We can't have different policies for different people."
"Let him go to the army and do his duty, and after that he can go do whatever he wants," Kerman concluded.