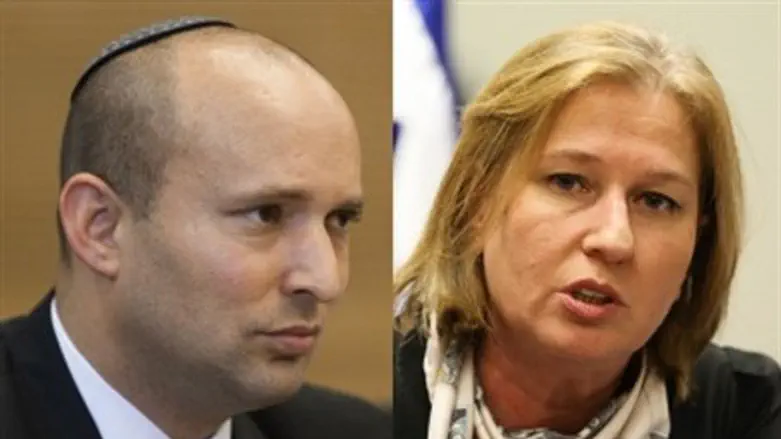 Bennett, Livni
Israel news photo: Flash 90
Justice Minister Tzipi Livni has decided to block the bill for reforming religious services proposed by Religious Affairs Minister Naftali Bennett and Deputy Minister Rabbi Eliyahu Ben Dahan, of Bayit Yehudi.
The decision to block the reform touted by Bayit Yehudi is an undisguised act of political revenge for Bayit Yehudi's decision not to support a bill proposed by MK Elazar Stern of Livni's faction, for enlarging the voting body that selects the chief rabbis.
The so-called Stern Bill would add several dozen people to the selection body, most of whom would be women. This change would reduce rabbinic influence over the selection process of the Chief Rabbis, a move which elicited strong criticism from religious Zionist as well as hareidi rabbis, some of whom said they would boycott the elections.
It would also make it politically possible to appoint a Zionist chief rabbi, instead of a hareidi one, as it is expected that the additional members of the body would not vote for a hareidi candidate. However, there is concern in religious Zionist rabbinic circles that the dilution of rabbinic votes - Zionist or hareidi - will, a few years down the line, also pave the way for non-Orthodox appointments, if certain changes are not made in the bill's current formulation.
Bennett and Ben Dahan's bill would mandate that heads of religious councils be carried out by public tender or a selection committee, with full transparency and in accordance with professional managerial standards. In addition, it seeks to reduce the number of religious councils nationwide.
As Justice Minister, Livni can effectively torpedo any bill she wants to, because she heads the Ministerial Committee of Legislation that decides which bills will receive the coalition's support in the Knesset. Without such support, most bills fail to receive a majority.
Bayit Yehudi said in response to Livni's decision: "This is a sad day for Israel's citizens, and it is strange that Minister Livni, who supposedly represents liberal values, has decided to prevent the revolution in religious services. One thing is for sure: the direct result of Livni's decision is the defeat of competition and efficiency in religious services. Political appointments in religious services will continue, less services will be available to individual citizens and the inefficiency in the religious councils will go on."
"We will fight this populist and baseless decision," the party vowed.
Livni's party, Hatnua, made clear that her reason for blocking the reform is Bayit Yehudi's veto of the Stern Law. Her spokeswoman said, "Bayit Yehudi has decided to prevent women from having the right to choose. Naftali Bennett's party has vetoed a bill that allows women to become part of the body that selects the chief rabbis. This is an unjust use of veto power against a moral and just law that has been approved by all the coalition member parties, which will carry out a reform for equality in the religious and hareidi sector. Therefore, Hatnua has carried out a counter-veto on Bayit Yehudi's Jewish Religious Services Bill.