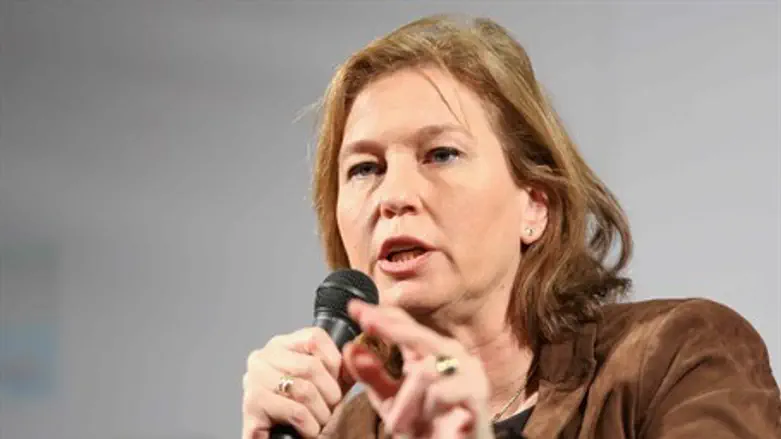 Tzipi Livni
Flash 90
Justice Minister Tzipi Livni and U.S. Secretary of State John Kerry met in Amman, Jordan, on Monday. Israeli media outlets reported that the meeting was also attended by Attorney Yitzchak Molcho, who is Prime Minister Binyamin Netanyahu's personal envoy for talks with the Palestinian Authority.
A diplomatic official confirmed that the meeting had taken place on Monday morning and that it dealt with ways to resume negotiations between Israel and the PA.
The meeting is the latest in a series of meetings that the top U.S. diplomat has held as part of his efforts to resume the talks which broke down in 2010, when PA Chairman Mahmoud Abbas refused to negotiate with Israel even though it agreed to his precondition and froze construction in Judea, Samaria and eastern Jerusalem for 10 months.
Kerry urged Israeli and PA leaders on Friday to take "hard decisions" to revive the Middle East peace process.
"We're getting toward a time now when hard decisions need to be made," he told a news conference in Tel Aviv at the end of his fourth visit to the region since he took office in February.
Kerry said there was "one way" to make peace a reality, "and that is through direct negotiations.
Abbas said on Saturday that peace between Israel and the PA is "still possible", but continued to accuse Israel of "occupying Palestinian lands".
In a speech to the World Economic Forum in Jordan, Abbas called on Israel to "end the occupation of our lands", evacuate Jewish communities in Judea and Samaria and free PA Arab terrorist prisoners.
On Sunday Kerry unveiled a plan to boost the Palestinian Authority's economy by attracting $4 billion in private investment.
Kerry said the plan could transform the lives of PA Arabs, adding it was also imperative to create jobs and meet the hopes of young people for a better economic future.
Kerry, as part of his attempts to kickstart the peace process, has been fighting to send the PA nearly $700 million in aid, despite major budget cuts and a fierce debate over where existing money should go.
A report in March said that the United States had quietly unblocked almost $500 million in aid to the PA which had been frozen by Congress for months.