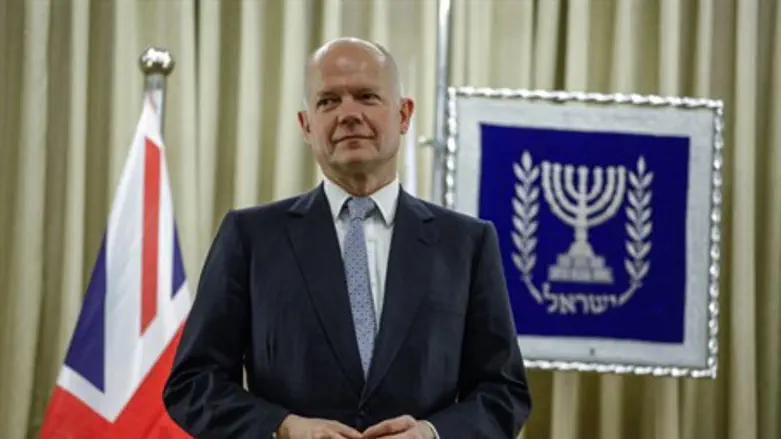 British Foreign Secretary William Hague in Je
Flash 90
British Foreign Secretary William Hague said on Friday that Israel was losing support in Britain and blamed it on its construction in Judea and Samaria.
Hague, who spoke to Sky News, was responding to remarks by International Relations Minister Yuval Steinitz, who told the Daily Telegraph on Thursday that there is "animosity" towards Israel by British media, non-governmental organizations (NGOs) and academics, describing it as "disguised anti-Semitism."
In response, the British Foreign Secretary said, "Israel has lost some of its support in Britain and in other European countries over time - this is something I've often pointed out to Israeli leaders - because of settlement activity, which we condemn.
"We strongly disagree with settlements on occupied land. Israel is a country we work with in many ways but we do disapprove of settlements," Hague told Sky News.
"We want to see both Israelis and Palestinians really commit themselves to the peace process while there is still a chance of a two-state solution," he added.
Hague warned the window of opportunity for Israel and the Palestinian Authority to agree to form a two-state solution was closing fast.
Failure to do so, he said, would mean Israel struggles to maintain the two characteristics it holds dearest - that it remains both a Jewish state and a democracy.
Hague said that the issues between Israel and the PA could only be resolved at negotiations, which he said PA Arabs have refused to attend until the Netanyahu government freezes the construction of Jewish communities in Judea and Samaria.
On Thursday, Hague, who visited Israel and the PA, said that peace between Israel and the PA is a "priority," warning that time was running out for a two-state solution.
"The prospects of a two-state solution cannot be kept alive forever as the situation changes," he told reporters in Ramallah.
"The two-state solution does not have much longer, there is not much more time in which it could be brought about," he emphasized.
(Arutz Sheva's North American Desk is keeping you updated until the start of Shabbat in New York. The time posted automatically on all Arutz Sheva articles, however, is Israeli time.)