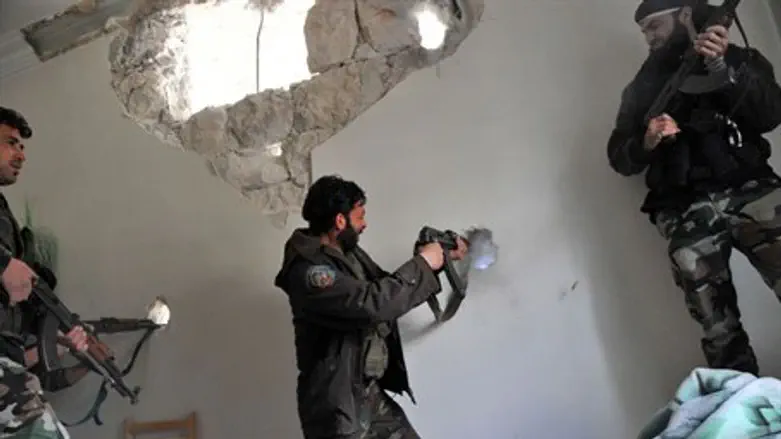 Rebels clash with Syrian government forces
AFP file
Hundreds of people have died in fierce fighting on the Syria-Lebanon border, as units of the Syrian army and Hizbullah terrorists battle Syrian rebels for control of the area. Dozens of Hizbullah terrorists are said to have died in these battles.
A report Thursday said that Hizbullah had begun recruiting Shi'ite fighters in Iraq, persuading them to join and defend the Assad regime. The report in a Kuwaiti newspaper said that Hizbullah has distributed tens of thousands of flyers in Shi'ite-populated areas, calling on young people to volunteer and fight on behalf of Syria.
It's unlikely those potential volunteers are being told the whole truth about the fighting in Syria – what could happen to them, and what they will be expected to do. The video below, filmed on May 19 and May 21 2013, shows some of the methods the groups use to fight, and the consequences. These tactics are being used all over Syria, experts said.
The video was filmed in Al-Qusayr, a city of over 40,000, which over the past two years has been turned into a war-torn danger zone, subject to shelling at any time of the day or night by both the rebels and the Syrian Army and Hizbullah units. The groups do not differentiate between military, infrastructure, or civilian targets.
In the voiceover, the cameraman describes not only the destruction, but his frustration, and the frustration of many in Syria, on the lack of interest the West seems to be displaying to the issue. "This is what Russia and Iran want," the cameraman says. "To destroy Syria and Islam. The entire world remains silent, with barely some condemnations."
According to the cameraman, Hizbullah's Hassan Nasrallah is seeking to destroy the mosques used by Sunni Muslims and replace them with "Husseinis," a pejorative term for Shi'ite places of worship.