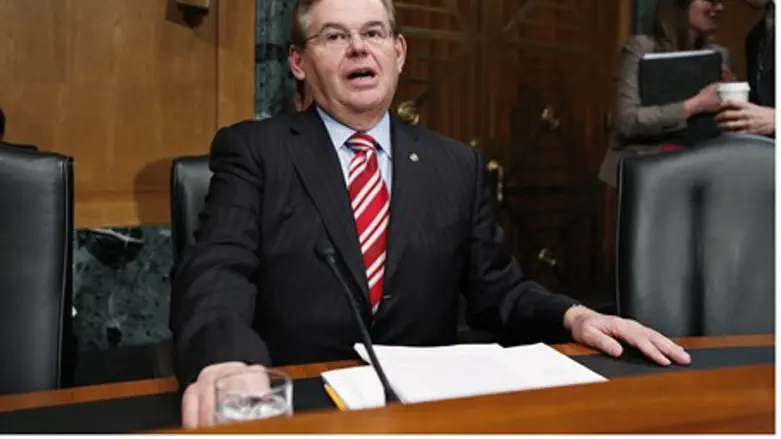 U.S. Senator Robert Menendez
Reuters
The United States Senate unanimously backed on Wednesday a pro-Israel resolution calling for U.S. assistance for Israel, should it be forced to attack Iran in self-defense.
Senate Resolution 65, introduced by Senator Lindsey Graham (R-SC) and U.S. Sen. Robert Menendez (D-NJ), Chairman of the Senate Foreign Relations Committee, condemns Iran's pursuit of nuclear capability.
The resolution supports Israel's right to self-defense and reaffirms the close security cooperation between the United States and Israel.
It states that the United States has a vital national interest in and unbreakable commitment to, ensuring the existence, survival, and security of the State of Israel; reaffirms the United States support for Israel's right to self-defense; and urges that if Israel is compelled to take military action in self-defense, the United States will stand with Israel and provide diplomatic, military, and economic support in its defense of its territory, people, and existence.
It also states that U.S. policy is to halt Iranian nuclear ambitions "to take such action as may be necessary to implement this policy".
Resolution 65 was adopted last month by the Senate Foreign Relations Committee.
"Iran's provocative actions threaten not just regional stability, but pose an existential threat to our ally Israel, and clearly are a very real threat to U.S. national security," Menendez said in a statement after Wednesday's vote. 
"Iran's leaders must understand, that unless they change course their situation will only get worse. Their economic struggles and international isolation will only grow," he added.
"While this resolution makes absolutely clear that we are not authorizing the use of force, it does make clear that we have Israel's back," stressed Menendez. "If Israel is compelled to take military action in self-defense against Iran's nuclear program, we should stand with Israel – using all the tools of our national power – to assist Israel in defense of its territory, people and existence."