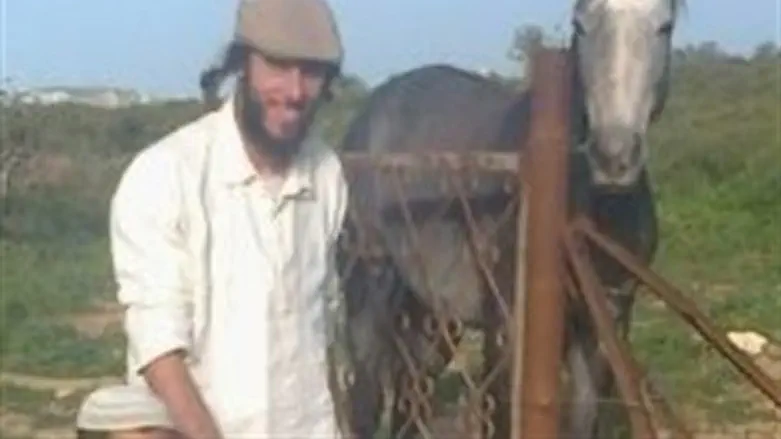 Evyatar Borovsky
Family picture
Three weeks ago, a terrorist stabbed and murdered 31-year-old Evyatar Borovsky at Tapuach Junction in Samaria (Shomron). Borovsky, a popular actor, was survived by his wife and five young children.
Now it has been revealed that Borovsky's mobile phone was stolen from the scene of the murder, Maariv reports.
The phone was given to Borovsky by the theater group he worked with, and was registered under the name of the group's director, Oshri Maimon.
The phone contained hundreds of pictures and video clips of his theater work and of his wife and children. "It has a lot of pictures of Evyatar with the children," his widow Tzofia said. "We hardly ever take pictures, and it had all the documentation of what we did as a family. I want the children to have a memento, and that phone has a good deal of our lives."
The family realized that the phone was missing only a week after the murder, when they were given Borovsky's personal effects. Maimon, the official owner, was the one who reported the phone missing as soon as the family realized it was not there.
"I spoke with a commanding officer from the Samaria region, and he explicitly denied responsibility, he told me, 'We can't track down every missing cell phone in Israel,'" Maimon said.
He added, "Until it's proven otherwise, we will assume that the phone was taken by somebody working with the security forces, because they were the only ones at the scene of the murder. Everyone else was evacuated within seconds. From the moment it became a murder scene, the police had full responsibility for what happened there."
Samaria District Police said in response, "In the wake of the family's report that the victim's telephone was stolen at the time of the event, the Samaria District Police have opened an investigation. Police will make every effort to return the missing phone to the Borovsky family."