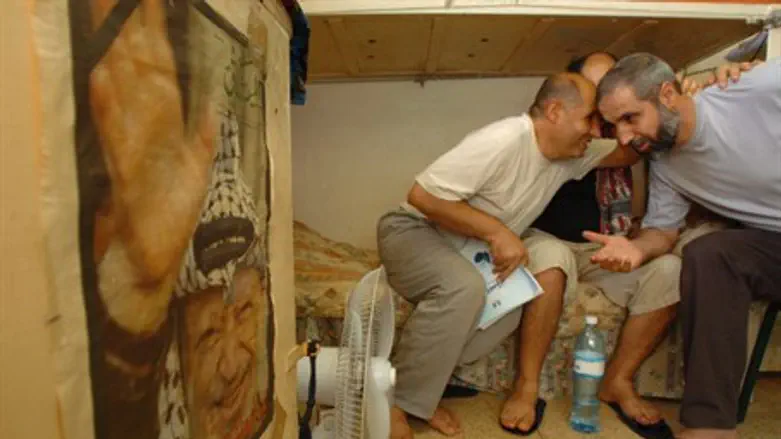 Terrorist prisoners
Israel news photo: Flash 90
The Israel Police Northern District's Central Unit and the Israel Prisons Service 'Dror' unit have uncovered an attempt by two terrorist prisoners to bribe a jailer at the Nafcha prison.
The two suspects are Gaza residents aged 28 and 33 who are serving long jail sentences for terror offenses. They approached a jailer and offered to pay him 20,000 shekels if he lets them smuggle two cell phones into the jail.
The bribe was to be carried out through a resident of eastern Jerusalem who would act as middleman, bringing the phones and the money to the jailer at a location the jailor was to specify.
The jailer reported the offer to his superiors. At this point, the police detectives and IPS went into covert action. The jailor made an appointment with the middleman, a resident of Atarot in northeastern Jerusalem, to meet at the Megido Junction.
The planned rendezvous took place Monday at 12:30. The middleman handed two cell phones to the jailer and 10,000 shekels as a first payment. He was immediately arrested. The prisoners were interrogated as well. All three will be arraigned at the Nazareth court Tuesday.