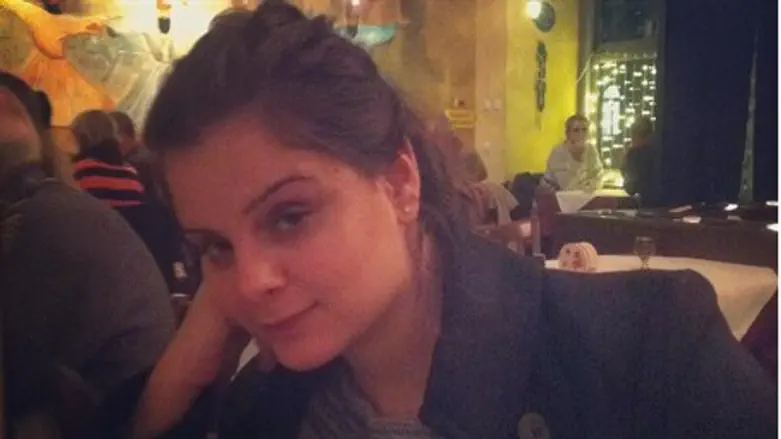 Dovrat Malul
Courtesy of Dovrat Malul
A young Jewish woman, Dovrat Malul, was driving through Yafo (Jaffa) Wednesday when she encountered a protest against Israel's establishment, on what Arabs call "Nakba Day."
Her response was to put a new song by Eyal Golan – simply called "Israel" – on her car stereo, and pump up the volume.
She uploaded the video to her Facebook page and has received numerous well-wishes by Jews who felt that she had saved the nation's pride with a small act of defiance.
"Today is Nakba Day," she wrote, "I drove through the streets of Yafo and passed Clock Square.
"I encountered a bunch of people, some Arab and some Jews, protesting in favor of an Arab Land of Israel. All of them were wrapped in [Palestinian] Authority flags, handing out flyers.
"Inside my country, my place, my state, my land.
"The heart is pained to see Israelis, blood of my blood, sitting with them and giving them a hand, as well as legitimacy. I stopped the car, put on the song 'Israel' by Eyal Golan, opened the windows with full volume, got out of the car, danced and shouted the song.
"'I am willing to die for you, Israel!' – All the other Jews who were there joined me, hugged me, told me 'kol hakavod!'
"Among this entire crowd, a Holocaust survivor comes up to me and spits in my direction, telling me that this is not our country, protesting on their behalf. This is sad, and pains the heart. Another Jewish woman tries to puncture my tires. An Arab woman tries to raise her hand against me.
"But this did not help them because a whole, strong nation stands behind me. No one will move us from here.
"And with a whole heart I say – 'Israel? I would die for you!!! I will give everything for you!'
"And after this day… after they called a policeman who told me I was obstructing traffic, and after I stood there for several minutes before everyone understood what was happening, I am proud to say that I am a Jewish woman in the whole Land of Israel!! Am Yisrael chai vekayam!!! The People of Israael Lives!"
Dovrat's Facebook page is flooded with well-wishers who are thankful to her for her courage.
Tzachi Tzarfati summed up the feelings of many when he wrote:
"In days in which IDF soldiers are pelted with rocks and humiliated by angry Palestinian mobs throughout Judea and Samaria, with the encouragement and backing of Israel's media and with the assistance of leftist funds from abroad; In the days when the [Knesset] is a podium for our worst enemies and all those who seek our demise; In days when the hall of law and justice has become the protector and savior of the seed of Amalek at the price of losing the seed of Israel; In days in which being an Israeli Zionist means walking with a bowed back, persecuted in your own land – along you came and with one heroic act restored our lost pride!... I salute you, Dovrat!"