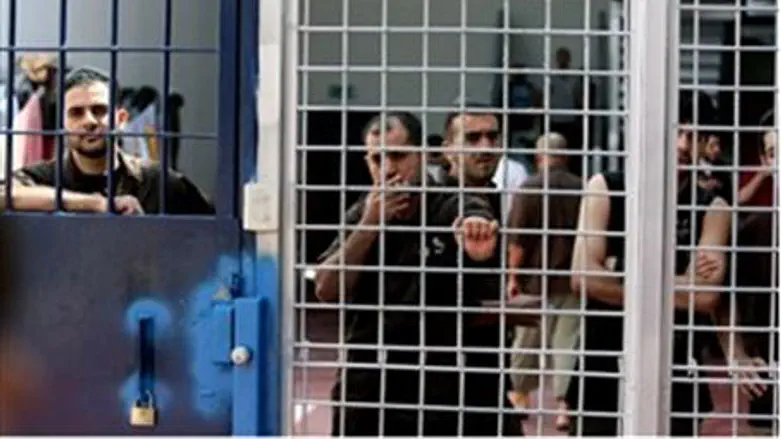 Prisoners in Ofer jail (archive)
Israel News photo: Flash 90
Arab terrorists who in the past served terms in Israeli prisons warned prisoners currently being held for terrorism to watch out for a group of undercover informers seeking to trip them up, who are known as "birds." The network apparently stretches far and wide, with these "birds" tasked with wheedling out confessions that lead to convictions through a mixture of charm, camaraderie and favors. The "birds" usually pose as terrorists themselves, the Arabs said, as reported by AFP.
Ahmed Azzam, 30, says his first exposure to the "birds" was after several unsuccessful Israeli attempts at interrogating him. "When I was 18, I was arrested by the army and charged with setting fire to an Israeli bus. I was interrogated by the security services but did not confess," he said. "After three days of interrogation I was taken to a room with other Palestinian prisoners, who started talking to me and getting to know me. One said he'd shot at Israeli targets, and another said his brother had been killed, so I thought I was in a room full of revolutionaries," Azzam said.
"I mentioned I was craving sweets, and the next day they got me some," he said, noting it was a type that it was not possible to get hold of in prison. "They treated me well."
And it worked. "After this treatment and hearing of their heroics against the occupation, I told them what I did and how a friend and I burned the bus." Three days later, he found himself in court where he was convicted and handed a three-year sentence -- all based on what he had said in the "bird room," although none of it was brought up as evidence due to the secretive nature of the system, says AFP.
Lawyers acknowledge "birds" are widely used to great effect by Israel, although the evidence gleaned from them rarely comes up directly in court. "Birds exist in Israeli prisons and are deployed among the prisoners," said Jawad Boulos, legal counsel for the Ramallah-based Prisoners Club. Israel "doesn't usually use confessions given to the birds in court, but rather uses them to take them into interrogation again and question them about their admissions, and then get official confessions."