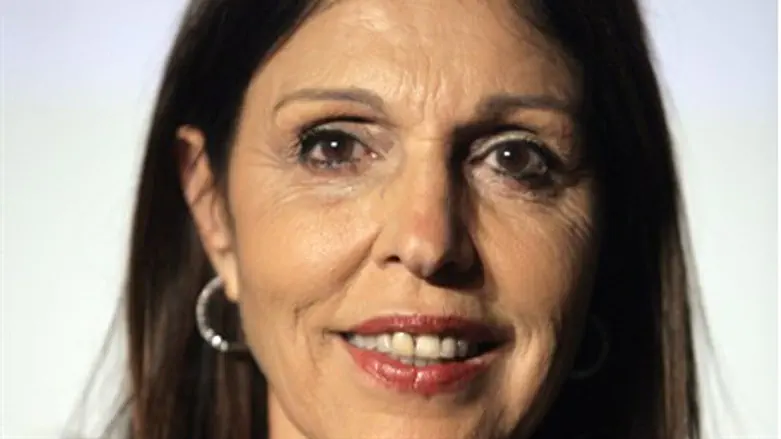 Carmela Menashe
Flash 90
Residents of the Samaria community of Yitzhar are not satisfied with an apology by Voice of Israel public radio senior reporter Carmela Menashe, regarding accusations she had broadcast against a child whom she identified as being from Yitzhar.
Menashe admitted Monday that the incident she had reported had not happened in Yitzhar and apologized to residents of Yitzhar. However, the residents said they do not intend to stop legal proceedings against Menashe.
Last Wednesday, Menashe reported that a seven year old boy in Yitzhar had accused a Bedouin soldier of raping him. According to Yitzhar officials, Menashe developed "a psychoanalytical theory" surrounding her story, in which "the imaginary child invented the story as a reaction to the murder of Evyatar Borovsky in Tapuach."
Menashe added, in her original report, that the incident was known to Yitzhar town leaders, but that they were deliberately ignoring it.
Yitzhar officials said that Menashe, perhaps out of laziness, failed to check the facts; had she done so, she would have found that there was no record of a complaint made by any resident of Yitzhar, and that indeed there were no members from the unit of the soldier in question stationed recently in Yitzhar.
It also turns out that the child's complaint was filed before Borovsky's murder and that he did not accuse the soldier of sexually abusing him, but rather of pointing a gun at him.
Samaria officials explained that Menashe's apology was only a partial and weakly worded one. "The days in which reporters feel free to make up lies and invent details regarding settlers are over," said Yossi Dagan, Acting Head of the Samaria Regional Council.