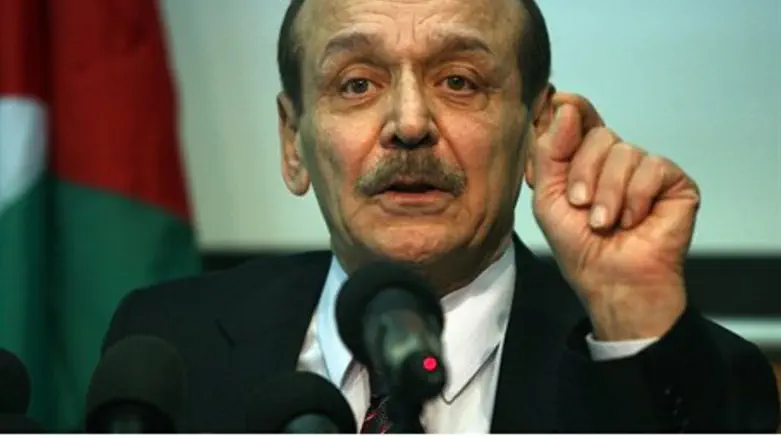 Yasser Abed Rabbo
AFP photo
Israel and the Palestinian Authority held secret talks at the end of 2010 and the beginning of 2011, a senior PLO official revealed Monday.
Yasser Abed Rabbo, a member of the PLO's Executive Committee, told the Israeli Walla news website that he himself met with Prime Minister Binyamin Netanyahu at the beginning of 2011 to talk about a return to peace negotiations. This meeting was preceded by at least ten meetings with Netanyahu's personal envoy, Attorney Yitzchak Molcho, said Abed Rabbo.
Netanyahu, claimed the PLO official, expressed willingness to resume negotiations after announcing a framework for talks – a two-state solution based on the borders which existed on June 4, 1967. Netanyahu, however, soon backed down.
"The meeting with the Prime Minister was held in mid-February, I think on the 15th," said Abed Rabbo. "It took place at the home of Molcho in Caesarea. Only four people were in attendance: Bibi, myself, Molcho and his wife. However, this was preceded by a series of meetings, I believe approximately ten, between me and the Prime Minister's envoy. These meetings were held in Jerusalem. We talked about all the issues, but I insisted in those meetings that Israel present its map of the two states and publicly announce its willingness to talk about the 1967 borders as a framework for talks. Molcho would not present a map and the talks were really exhausting - a lot of talk without agreements."
Abed Rabbo told Walla that the only ones on the PA side who knew about the secret talks were PA Chairman Mahmoud Abbas and Prime Minister Salam Fayyad. The PLO's chief negotiator, Saeb Erekat, was not let in on the secret, he said.
"At one point I told Molcho that if he agrees to the 1967 framework, we can talk about limited land swaps and security arrangements, but the 'security considerations' cannot determine the borders," recalled Abed Rabbo, who added that Molcho replied that he would have to arrange for a meeting between Abed Rabbo and Netanyahu so the two can reach an understanding.
During the meeting with Netanyahu, said the PLO official, several issues came up, including the issue of Jerusalem and the Arabs' demand to allow thousands of who fled their homes in 1948 to take up residence in Israel.
Netanyahu, said Abed Rabbo, agreed to form a delegation to hold peace talks and asked Abed Rabbo to form a PA delegation. After that, he claimed, Netanyahu disappeared.
"He asked us to prepare the Palestinian delegation and I asked if he agrees with what I suggested," he recalled. "He then said, 'Give me two days and I'll get back to you. We said our goodbyes. He asked me to give his regards to Abbas. And since then I have not heard from Bibi or Molcho. After a year I sent him a message, through a third party, telling him that I've been sitting by the phone and waiting for a year, but Netanyahu has not responded."
The Prime Minister's Office would not respond to the Walla report, which comes as U.S. Secretary of State John Kerry tries to kickstart the peace process.
Last week Kerry met in Rome with Justice Minister Tzipi Livni, who has been appointed by Netanyahu to lead the peace talks. During the meeting he announced that he will be returning to Israel in late May.
The PA leadership has imposed endless preconditions for talks with Israel. Abbas demanded a construction freeze in Judea, Samaria and eastern Jerusalem in 2010. However, when Israel complied under pressure by U.S. President Barack Obama, Abbas refused to sit down and negotiate.
Abbas recently told Kerry that Israel should freeze construction in Judea, Samaria and eastern Jerusalem and release terrorist prisoners, especially those arrested before the 1993 Oslo Accords, before any resumption of peace talks.
He recently demanded that Netanyahu present a map for a future Palestinian state before any peace talks can resume, similar to the demand Abed Rabbo claims to have made in the secret talks. Israeli officials said in response that this was out of the question.
Former U.S. Secretary of State Condoleezza Rice has revealed in her memoir that in 2008, then-Prime Minister Ehud Olmert offered Abbas 94% of Judea and Samaria, as well as shared control over Jerusalem. Abbas rejected the offer.