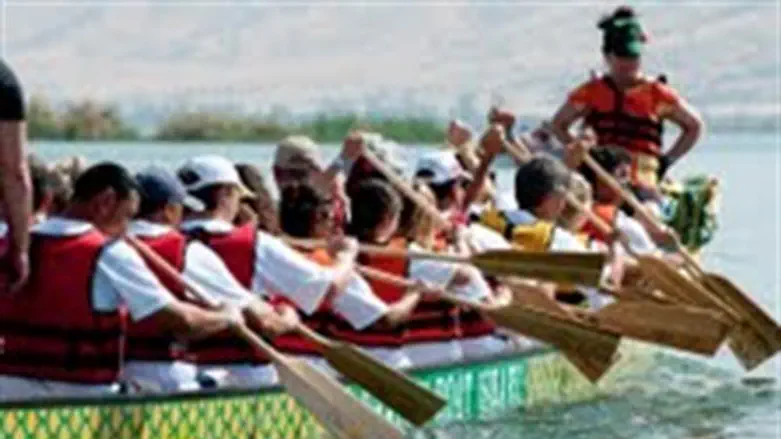 OneFamily Dragon Boat
INN: E.K.
On Friday, May 10, close to 700 unlikely athletes gathered in Tiberias (Tverya) for the second annual Dragon Boat Israel Festival.
As intended, the joint Canada-Israel initiative, has been very successful in both introducing the sport of dragon boat racing to Israel and promoting tourism to the north.
What's more, the exciting, team-focused affair supports several Israeli charities and fosters cultural awareness.
Though there were many impressive teams from around the world on the water for Friday's race, 'Team OneFamily' stood out from the crowd.
For the second straight year, OneFamily, Israel's only national organization solely dedicated to the rehabilitation of victims of terror attacks and their families, assembled the largest and most eclectic Dragon Boat team – 88 paddlers ranging in age from 22-80.
Making up four boats, the group's total staff of 100 included 22 Canadian supporters of OneFamily who made the trip to Israel specifically for the race, and 69 Israeli injured young adults and bereaved parents.
"The key to dragon boat racing is figuring out how to keep 22 team members - all in one boat - in sync. It was really moving to see how the terror victims' demeanors changed when racing – from heavy, unfocused, and unable to interact, to lightness and smiles," said Pam Albert, the head of OneFamily Canada and a second-year Dragon Boat team member.
"This event presents supporters with a truly unique opportunity to connect with terror victims, while empowering the terror victims themselves. It deepened the connection between our communities and made us more aware of what is still needed."
Ms. Albert also pointed out that many of the Canadian team members were parents of campers at Camp Timberlane, a Jewish summer camp in Ontario that, at the recommendation of OneFamily, hosts Israeli teenagers affected by terror in an effort to help them heal via an enriching summer experience.
OneFamily team member Dina Kit, a bereaved mother, lost her son in a tank explosion by a suicide bomber in 2001. She described Dragon Boat Israel Festival as a highlight of her year.
"It was just so much fun. We had to figure how to paddle together and we were continually helping each other, even the language barrier couldn't get in our way. Having the Canadian group with us made us feel like we are being supported even by people outside of Israel."
Thanks to a stunning group effort, 'Team OneFamily' took first place in their category, and finished eighth out of thirty-three teams overall.
Following the big win, the bereaved parents and the Canadian supporters spent Shabbat together, while the younger racers, including 40 injured IDF soldiers and young adults injured through terrorism, continued on to a rehabilitative retreat in Yishuv Goren sponsored by OneFamily Canada.
"One of the most important things we can do to help in the emotional rehabilitation of terror victims, particularly those who have been injured, is to give them a sense of normalcy," said Rachel Moore, a OneFamily spokesperson.
"Sporting events like these, where survivors can feel like just another member of the team, are crucial to their recovery."
OneFamily offers a number of sports opportunities to create positive and uplifting connections between victims, the bereaved, and supporters, including a soccer team set to participate in the Eilat Nationals at the end of the month.