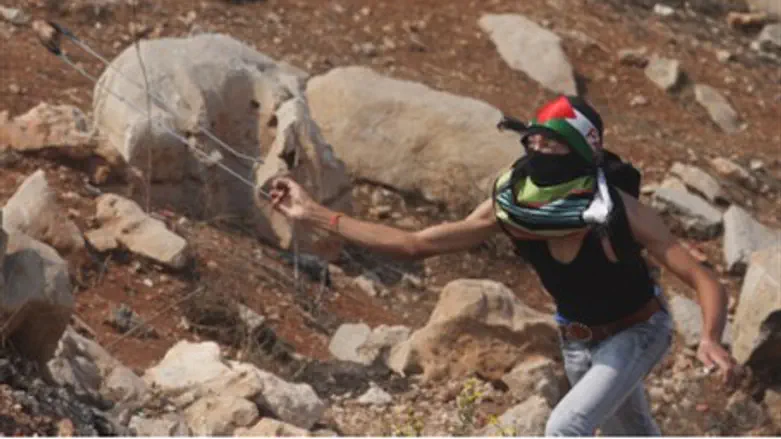 Arab rioter (file)
Israel news photo: Flash 90
Rabbi Yosef Yitzhak Kovalkin of Neria, in the Binyamin region, was brutally beaten May 4 at the Doar Junction near his community together with another Jew, Aharon Zlatkin, 53.
Zlatkin is still in the hospital and was initially under anesthesia and artificial respiration. He is now doing a little better and has begun moving his arms and legs and even mumbling some words.
Kovalkin told Arutz Sheva that he and Zlatkin took part in a protest against the security situation after a week that was full of attacks on Jewish motorists in the region, including throwing of rocks and fire bombs, rolling boulders on cars and more.
"Most of the people stood at the junction at the Doar Junction," he recalled. "Some may have entered the village, I don't remember. We stood at the entrance to the village to prevent them from leaving. It's unacceptable that we will be hit by rocks and they will move about freely. I stood in the middle of the road and Aharon stood at the side.
"An older man came up to me with about six or seven youths holding clubs. They had murder in their eyes. He shouted at me, 'Get out of here, get the hell out.' I answered him with confidence – 'You get out of here. You have no business here.' They left me alone. I turned around and then I heard blows, and I saw them hitting Aharon with clubs, one after the other.
"I moved in immediately to protect him. Suddenly I felt that one of them hit me hard in the back with a club, and felled me to the floor. From that moment it was like they were beating drums – clubs all over my body. They wanted to kill a Jew, no matter how."
There were three soldiers on the scene throughout the attack, he said, but the IDF's "delusional" orders for opening fire made it impossible for them to do anything, Rabbi Kovalkin said.
He emerged from the beating with over 30 stitches in his head. His fingers swelled up because he used his hands to shield his head, but luckily no bones were broken.