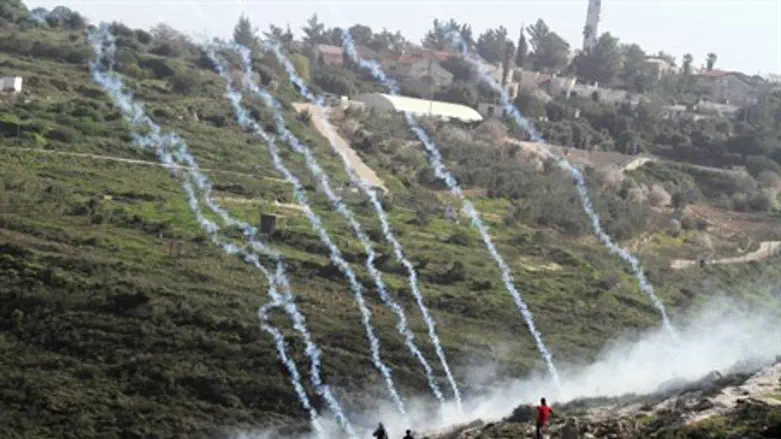 Tear gas near Israeli community
Israel news photo: Flash 90
Israeli civilians are suffering the consequences of Palestinian Authority riots, according to a recent flood of reports to Arutz Sheva.
PA residents regularly clash with IDF soldiers at certain points in Judea and Samaria (Shomron) on Friday and Saturday, particularly near the separation barrier.
The protests are often held near Israeli communities – and according to many Israelis, the effects can be felt for hours in their towns. Soldiers often use tear gas to disperse protests, and the gas is carried on the wind to nearby civilian areas.
"It's a very strong gas that can be felt in the mouth, that makes life difficult for the entire Sabbath," said a resident of Neve Tzuf.
While tear gas is not fatal, it can pose a health threat to people with lung disease and other illnesses relating to the respiratory system. It can also be harmful to pregnant women.
A military source told Arutz Sheva that the IDF is aware of the phenomenon in question. Soldiers try to avoid using tear gas near civilian communities, he said, "but it's not always possible."