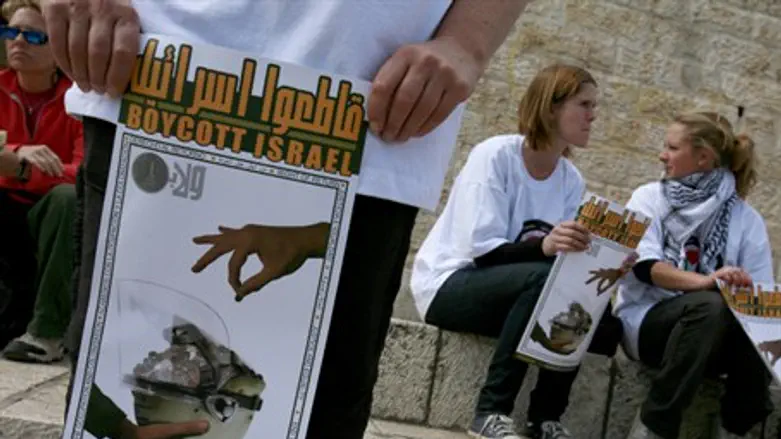 posters calling to boycott Israel
Flash 90
Israel's ambassador to the UK, Daniel Taub, condemned on Thursday a report by the Church of Scotland that questioned the divine right of Jews to the land of Israel.
Taub said the document "negates and belittles the deeply held Jewish attachment to the land of Israel in a way which is truly hurtful."
"If a document of this nature is adopted by the Church of Scotland it would mark a significant step backwards for the forces of tolerance and peace in our region," Taub said, according to a report in the Guardian.
The church paper, entitled "The Inheritance of Abraham," which was published online by the Church and Society Council of the Church of Scotland just days before its May 18 General Assembly, selectively highlights scriptural and theological claims of Jews to the land, and rejects verses in which the land is promised to the children of Abraham. 
The report's introduction describes it as the council's "latest reflection on the 'questions that need to be faced,' as the political and humanitarian situation in the Holy Land continues to be a source of pain and concern for us all."
The report suggests the church consider political action, including boycotts and disinvestment in Israel, in protest of what is described as "illegal settlements in the occupied territories."
The Guardian reported that the Church of Scotland has agreed to change the report after it sparked anger among Britain's Jewish community.
According to the newspaper, senior figures in the church met Jewish leaders on Thursday, and the Church has agreed to reword the paper's introduction to make clear the church has never challenged the right of Israel to exist.
The original report, which will be debated and then voted on by 723 general assembly commissioners, or delegates from across Scotland, has also been taken down from the Church of Scotland's website until it is rewritten, noted the Guardian.
The original version of the 10-page report began by questioning the "widespread assumption" that the Bible supports a Jewish state because that "raises an increasing number of difficulties and current Israeli policies regarding the Palestinians have sharpened this questioning."
It asked whether "the Jewish people today [would] have a fairer claim to the land if they dealt justly with the Palestinians?" and suggests some Jews believe they have a right to the land of Israel "as compensation for the suffering of the Holocaust".
It concludes, "From this examination of the various views in the Bible about the relation of land to the people of God, it can be concluded that Christians should not be supporting any claims by Jewish or any other people to an exclusive or even privileged divine right to possess particular territory.
"It is a misuse of the Bible to use it as a topographic guide to settle contemporary conflicts over land."
The Anti-Defamation League (ADL) denounced the paper as "stunningly offensive", saying, "The very premise of the paper reflects a classic rejection of Judaism in the broadest sense."
"This stunningly offensive paper which attempts to undermine the religious legitimacy of Jewish beliefs is a classic rejection of Judaism," said ADL National Director Abraham Foxman. "By brazenly dismissing Jewish self-understanding of its own Bible - the Torah, the Church of Scotland has disregarded nearly five decades of progress in Jewish-Christian theological dialogue by promoting religious principles which deny the legitimacy of Judaism and were used for centuries to justify the brutal repression of Jews."