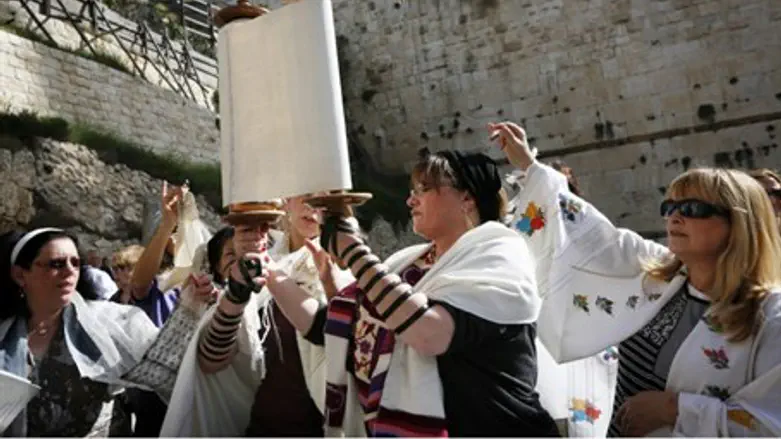 Women on the Wall (file)
Flash90
Thousands of hareidi young women  are expected at the Kotel Friday to pray on the first day of Sivan, the month in which the Torah was given at Mount Sinai. They have been instructed by their teachers to pray silently as usual and avoid clashing with the Women of the Wall group, whose members insist on reading from the Torah while wearing prayer shawls, in contravention of the established customs at the Kotel.
Beit Hillel, a religious Zionist rabbi's group, issued a statement saying that "Jerusalem was always a source of unity and peace for the Jewish people, and it was destroyed 2,000 years ago just because of discord and hatred between brothers."
"The Kotel's rocks must not become a source of fighting, discord and disagreement again," the rabbis said. "We call on all sides to avoid confrontations and physical or verbal violence at the Kotel Plaza tomorrow. A solution must only come from dialogue and understanding, and not through coercion by one of the sides."
Minister Naftali Bennett, head of the Bayit Yehudi party, issued a similar call Thursday. "I call on all sides to lower the flames as tomorrow approaches," he said. "The Kotel is a holy site and not a battleground." He attempted to dissuade the Women of the Wall from provocation.
Minister Bennett and Deputy Religions Minister Rabbi Eliyahu Ben Dahan said they are working toward the implementation of an idea put forth by Jewish Agency head Natan Sharansky, for dividing the Kotel Plaza into three sections, one of which will serve non-Orthodox Jews. The Women of the Wall are against the suggestion.