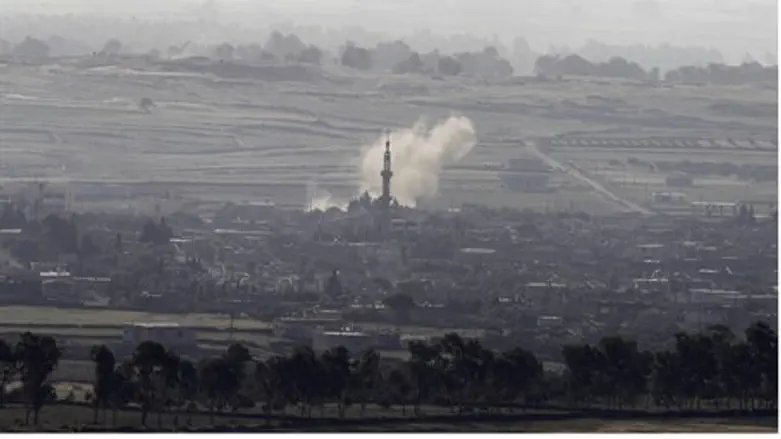 smoke rises from Syrian village
Reuters
The United States and Russia on Tuesday agreed to push both warring sides in the Syria conflict to find a negotiated solution and to hold an international conference in search of peace, AFP reported.
Visiting U.S. Secretary of State John Kerry held hours of talks with President Vladimir Putin and then with Foreign Minister Sergei Lavrov lasting late into the night, in a bid to narrow the differences between Moscow and Washington on the conflict, the report said.
"We agreed that Russia and the United States will encourage both the Syria government and opposition groups to find a political solution," Lavrov told reporters at a concluding news conference that ended after midnight.
Lavrov added they agreed on the need to hold "as soon as possible" an international conference on Syria to convince both rebels and the regime to accept the terms of the Geneva accord agreed by world powers last June for a peaceful solution in Syria.
He said the conference should take place "if possible by the end of this month."
The Geneva agreement, which was reached by world powers on June 30, set out a path toward a transitional government without ever spelling out what President Bashar al-Assad's fate should be.
Kerry said the conference should be held as "soon as is practical."
"Its specific work will be to bring members of the government and the opposition together to see how we can implement the language of the communique," said Kerry, according to AFP.
Kerry added, "A negotiated settlement is the essential means to ending the bloodshed in Syria."
Lavrov said both the United States and Russia were ready to use all their capacities to bring "the government and opposition to the negotiating table."
Kerry had earlier told Putin in talks lasting over two hours at the Kremlin that his visit was aimed at finding "common ground" with Moscow over Syria.
"The United States really believes that we share some very significant common interests with respect to Syria," Kerry told Putin at the talks, according to AFP.
He cited these interests as "stability in the region, not letting extremists create problems in the region and elsewhere."
Russia has long accused the West of worsening the Syria conflict by seeking to topple the Assad regime, and says Moscow is solely interested in seeing a peaceful solution to a conflict that has claimed more than 70,000 lives since March 2011.
The U.S. and other Western states have in turn accused Russia of failing to use its influence with the regime to halt the bloodshed and keeping up military deliveries to Assad.
President Barack Obama is coming under increasing pressure in Washington from domestic political critics who are demanding action in Syria, including an operation to arm rebels or set up a no-fly zone to protect civilians.
The White House has said it is considering all its options, including reviewing its opposition to date to providing weapons to rebels.
On Monday, Sen. Robert Menendez, the Democratic chairman of the Senate Foreign Relations Committee, offered legislation that would allow the United States to provide lethal weapons to the Syrian opposition.
Menendez's bill would allow U.S.-provided arms, military training and supplies to go to groups that have been vetted and cleared, and establish a $250 million fund to help support a political transition in Syria.