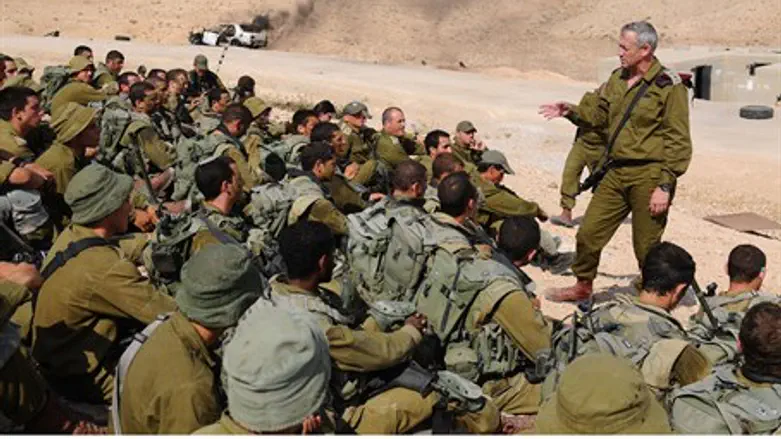 IDF CoS Gantz with Nachal soldiers
IDF Spokesperson
IDF Chief of Staff Benny Gantz on Tuesday participated in exercises with Nachal soldiers. The exercises took place in IDF exercise fields next to the army base in Tel Arad in southern Israel.
Gantz observed the exercises together with IDF Central Command head Nitzan Alon, head of the IDF Parachutists Units Itai Virov, and others. After the exercises, Gantz met with soldiers and discussed with the the challenges facing the IDF on various fronts.
In response to a question by a soldier, Gantz said that the IDF was working out a plan for "sharing the burden" between soldiers of all backgrounds. "We are nor talking about sharing the burden, but about sharing in the merit of defending the state."
Gantz praised the soldiers and their commanders for their performance in the exercises. "My demands from you are that you ne professional soldiers, working together for a cause, caring about the fate of one another. I want you to be ready for your missions, warriors who are first and foremost human beings who keep the values you were educated with. The Nachal brigade is a very professional one, that cannot allow itself to rest for even a day, given the great challenges we face," said Gantz.