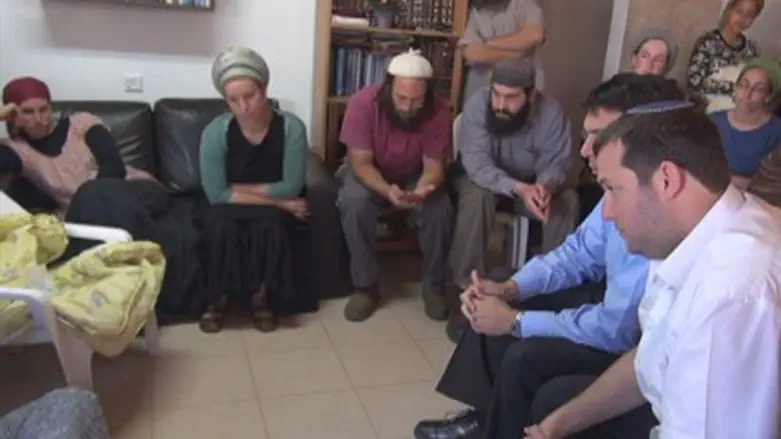 Deputy Minister Danny Danon at the home of Ev
Yoni Kempinski
Deputy Defense Minister Danny Danon visited on Sunday the Tapuach Junction in the Shomron, where Evyatar Borovsky was murdered by a knife-wielding terrorist last week.
Danon also visited Borovsky's home in the community of Yitzhar.
"Unfortunately, we see that the incitement in the Palestinian Authority continues," Deputy Minister Danon told Arutz Sheva during the visit. "While we want to build, they want to destroy and to kill."
Israel, he clarified, is "determined to build in Yehuda and Shomron (Judea and Samaria). We are determined to keep the Jews who live here safe. I heard stories from the pioneers who live here and who no longer feel safe. We are committed to make sure they feel safer on the roads of Judea and Samaria."
Danon said that Israel needs to reconsider the issue of the road blockades, most of which have been removed in recent years, allowing terrorists to freely enter Judea and Samaria and harm Israelis.
"If we need to make the Jews safer by making it uncomfortable for the Palestinians, that's what we should do," he said. "The safety of the Jews in Judea and Samaria comes before anything else, as far as I'm concerned."
The Deputy Defense Minister also responded to demolition of the outpost that was put up near the Tapuach Junction in memory of Borovsky. The outpost was demolished in the dead of night by security forces who did not take into consideration the fact that Borovsky's family and friends were in the middle of sitting Shiva for him.
"The terrorist who came and killed Evyatar Borovsky last week doesn't want to see Jews living here and the answer to him and to his family should be to build another neighborhood and another community," said Danon. "That should be the answer, but it should be done properly and according to the law."
Danon recalled his visit to the Borovsky home, where he met Evyatar's widow, Tzofia, and the five children he left behind.
"It's very hard to see a young widow with five young children. There's no explanation that you can give them," he said, adding, "I listened to them very carefully and I promised them that we will continue to build and make sure that there will be more Jews in Yehuda and Shomron."