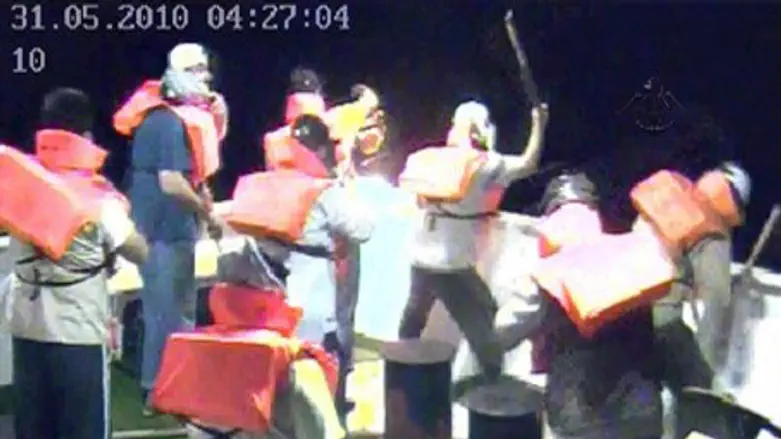 on board Mavi Marmara
Flash 90
Israeli and Turkish officials are set to meet on Monday in Israel for another round of talks over compensation for the 2010 Mavi Marmara flotilla incident, a diplomatic source told the AFP news agency.
"The second round of negotiations will be held in Israel tomorrow," the source said on Sunday, without elaborating.
An initial meeting was held in Ankara on April 22 to discuss the amount and the terms of the payment for the compensation by Israel, which Turkey has named as a precondition for normalization of diplomatic ties.
That meeting was the first stage of what Turkish officials have said would be a multi-step diplomatic process that could finally reinstate bilateral ties between the former allies.
Monday's talks will see Turkish diplomats officially visit Israel for the first time in three years since the Gaza-bound flotilla filled with anti-Israel activists sought to infiltrate the borders of the Jewish state. The incident resulted in the death of nine Turkish nationals.
Following the first round of talks, Ankara had said "initial parameters" were set and a framework was established, but the amount was still to be discussed, AFP reported.
While Prime Minister Binyamin Netanyahu had apologized to his Turkish counterpart, Turkey has insisted that full diplomatic relations will not be restored until the so-called victims are compensated and the blockade of Gaza is lifted.