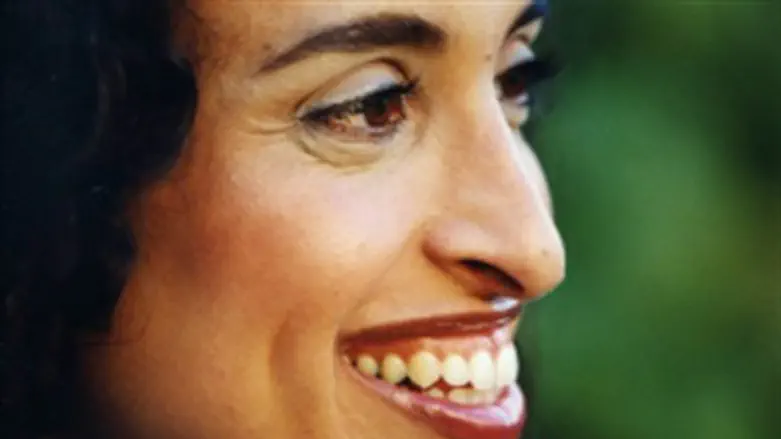 Achinoam Nini (Noa)
Israel news photo: Flash 90
The city of Jerusalem is in the final stages of preparations for Jerusalem Day, which celebrates the reunification of the city in 1967 after 19 years in which the eastern half was under Jordanian rule and Jews and Christians were not allowed to visit its holy sites.
One of the main attractions during festivities in the capital will be an evening of classic Israeli music at Safra Square (Kikar Safra), the site of the municipality, in downtown Jerusalem.
The festivities may be marred this year by organizers' controversial choice of singer – Achinoam Nini, a famed Israeli singer with far-left views who has called for Jerusalem to be divided a second time. Nini believes the parts of the city that were formerly under Jordanian rule should be given to the PA - including the Western Wall and the Temple Mount - which seeks to make eastern Jerusalem the capital of a new Arab state.
Some Jerusalem residents are calling to boycott the official celebration due to Nini's views. "She has taken part in pro-Palestinian protests where they called to divide Jerusalem and return to the 1967 borders," noted Chen Rosen, who is taking part in the boycott.
"Isn't she ashamed to perform in celebrations for the liberation and unification of the city? It goes against all of her opinions," Rosen asked.
Rosen recalled other extremist views expressed by Nini. "During a performance she complained about the Education Ministry's plan to have students visit the Tomb of the Patriarchs [in Hevron] and said, 'My children won't go to any Hevron, I'd prefer for them to visit Umm el-Fahm'… She signed a petition asking President Peres to allow Hanin Zoabi to run for Knesset," Rosen wrote.
Zoabi was on board the Mavi Marmara that attempted to break Israel's blockade of Gaza.
Last year Nini was criticized for a Memorial Day performance before a mixed crowd of families of Jews killed by Arab terrorists and families of Arabs killed by the IDF and Israelis. Among the latter group was the family of Ziad Jilani, an Arab man shot and killed as he attempted to murder Israeli police officers in a terrorist attack.
At least one senior city official has expressed understanding for boycott organizers' views. National religious Deputy Mayor David Hadari (Bayit Yehudi)  told Arutz Sheva that the choice of Nini to sing at the annual celebration was "an outrage." The professionals organizing the event were apparently not aware of the political issues, he said.
Hadari said the city would look for ways to prevent similar issues from arising in the future.