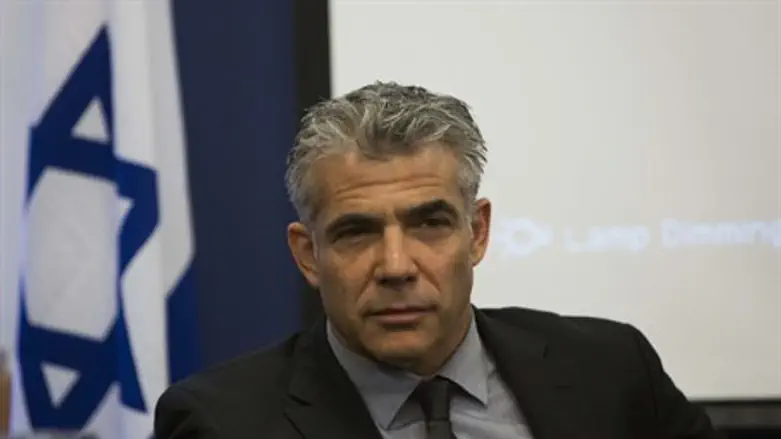 Finance Minister Yair Lapid
Flash 90
Standard & Poor's Ratings Services lowered on Thursday Israel's long- and short-term local currency sovereign credit ratings to 'A+/A-1' from 'AA-/A-1+'.
At the same time, S&P affirmed the long- and short-term foreign currency sovereign credit ratings at 'A+/A-1'. The outlook is stable.
"The lowering of the local currency rating results from recent fiscal slippage, highlighting the gap between fiscal performance and other key metrics such as economic performance, external balances, and monetary policy flexibility. These continue to be relatively strong. Under our criteria, we do not distinguish between local- and foreign-currency sovereign ratings when a government's fiscal position is a disproportionate credit constraint," S&P's statement said, according to a report in Globes.
"Our affirmation of the foreign currency ratings reflects our view of Israel's prosperous and diverse economy as well as the medium-term impact of natural gas production on the external account. The stable outlook reflects our opinion that Israel's governmental consensus about containing public debt will reemerge despite current fiscal consolidation pressures," the agency added.
"We could consider raising our ratings on Israel if it makes material progress in defusing external security risks, since such progress would have positive repercussions for domestic stability, economic growth, and investor confidence.
"Conversely, we believe that a significant setback in reducing the government's high debt burden, a decline in growth prospects, or a substantial deterioration of the security situation in Israel could put downward pressure on the rating," the announcement concluded.
Finance Minister Yair Lapid was unfazed by the downgrade, saying in a statement quoted by Globes, "The rating downgrade at this time is no surprise. This is a late response to the situation that we are now trying to correct. We have to look at ourselves in the mirror and honestly say: 2013 and 2014 are the years in which we shall close the overdraft, and as we fix it, we shall start to take off. We are now changing our order of priorities. The working person will be at the center; the cost of living will fall. Only that way can the economy grow and continue to maintain its standing.
"We are now taking responsible steps, and as long as I am minister of finance this responsible policy will be maintained," added Lapid. "In the meeting I held yesterday with the Governor of the Bank of Israel, he repeated his support for the Finance Ministry policy that aims at a deficit target of 3% in 2014, and at the public spending framework determined by the law."
On Thursday, Lapid announced a plan to increase the deficit target from 3% to 4.9%. The increase would mean allowing Israel's deficit to grow to an unprecedented 50 billion shekels.
The original deficit target for 2013 was 1.5%. Former Finance Minister Yuval Steinitz then raised it to 3%.
Lapid said the decision was coordinated with Prime Minister Binyamin Netanyahu, but sources close to Netanyahu said on Thursday evening that Lapid had not involved the Prime Minister in his plan. Lapid's decision reportedly surprised Bank of Israel Governor Stanley Fischer as well.
Lapid said shortly after entering office that he would deal with the deficit. "It's time to deal with the overdraft. We'll work hard, we'll limit ourselves, we'll reduce expenses, we will also have to cut where it's most painful," he wrote in a message to his supporters.
In January, figures assembled by the Accountant General's Office found that Israel's budget deficit was double than what had been expected. Instead of the 2% that Israel had been thought to be in "overdraft," it turns out that the deficit is 4.2%.
The Treasury said that most of the unexpected deficit, about NIS 18 million, was due to lower than expected tax receipts. Spending overruns accounted for only NIS 2.2 billion of the deficit.