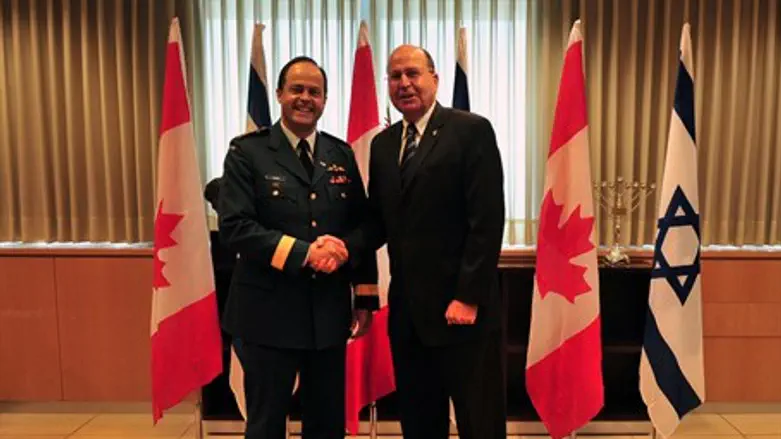 Defense Minister Moshe Yaalon and Canada's Ch
Ariel Hermoni
Defense Minister Moshe Yaalon met on Wednesday with the Chief of Staff of the Canadian Forces, General Thomas J. Lawson.
During the meeting, Yaalon praised the strong relations between Israel and Canada, adding that the two countries will work even closer together.
"Israel and Canada have a relationship based on shared values ​​and interests," said Yaalon. "Canada, led by Prime Minister Stephen Harper, is a true friend of Israel and an example of a country that manages policies based on values ​​and moral clarity."
"It is important, in light of this, that we tighten our cooperation in the face of the challenges and with an emphasis on the fight against terrorism," he added. "Infighting on the future and identity of neighboring countries, between extremist Islamic movements ethnic and national movements, is going on in the Middle East today."
"This can be seen in Syria, where there is a struggle between the Alawites, the Sunnis and the Shiites, with the involvement of other factors such as al Qaeda and the Muslim Brotherhood," he said.
Ya'alon emphasized that "the Iranian regime is involved in all the conflicts, it deploys its branches through the Al-Quds forces in different areas in the world and tries to export the Iranian revolution to countries in the region and beyond."
"In this context it is important to stop the Iranian nuclear program in one way or another," emphasized Yaalon. "Presently, the diplomatic channel is not stopping the project, the economic sanctions still do not stop the centrifuges and a credible military option, with a willingness to carry out even if it is a last resort, is required.