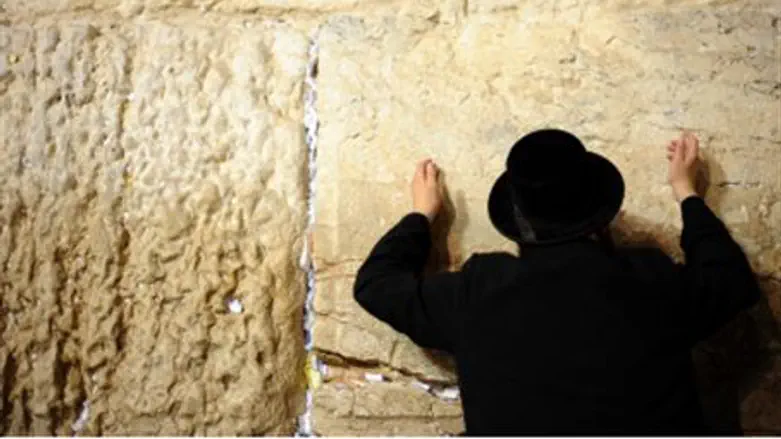 A Jew prays at the Western Wall
Israel news photo: Flash 90
The religious-Zionist rabbinic organization Beit Hillel has released a statement clarifying the Jewish religion's stance on non-Jews and on women's roles in Jewish life in wake of a controversy that erupted over an article written by the IDF rabbinate on the subject of mezuzah.
The article discussed the issue of whether IDF-owned buildings are considered Jewish-owned, and thus require a mezuzah on the doorposts, or whether they are considered jointly owned between Jews and non-Jews. IDF rabbis concluded that IDF-owned buildings are primarily Jewish-owned, a decision that was picked up by the Haaretz newspaper, which implied it was racist against non-Jews.
Beit Hillel expressed sympathy with the IDF rabbinate, "We read the booklet in depth… The quotes in the media were taken out of context, were taken from an in-depth discussion of halakha (Jewish law) regarding the need for a mezuzah on a building jointly owned by a Jew and non-Jew… practically speaking, nothing can be learned from them."
The group continued, "We believe that in our days there is no place for discrimination between Jews and non-Jews in civil matters." This is the Jewish approach as expressed by Rabbi Kook, they said, citing quotes in which Rabbi Kook said the view of seeing whatever is outside the Jewish world as ugly "causes destruction," and that "only in a soul rich with love of creation and love of humanity can love of the nation rise up… "
"The idea that Judaism sees non-Jews as automatically inferior is one of the great ills of our generation," Beit Hillel lamented. The group called on the IDF rabbinate to issue a clarification in the matter.
In addition, Beit Hillel responded to the IDF rabbinate's statement that it is preferable for a mezuzah to be affixed by a man rather than a woman. 
"We believe there is nothing in Jewish law that prevents women from affixing a mezuzah just as men do, as is customary in many places," the group stated. "The mitzvah of affixing a mezuzah applies to men and women equally, as statement in the sources quoted in the booklet."
"In today's generation in particular… there is no reason women should not participate in this mitzvah. We call on the IDF rabbinate to encourage women to take part in the mitzvah of affixing a mezuzah," it said.